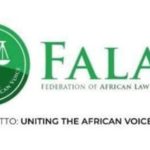 By Chimezie Anaso
African Law students, under the aegis of Federation of African Law Students (FALAS), say they will explore opportunities for exchange programmes with their peers in other continents of the world.
The Head, Diplomacy and External Affairs of the group, Mr Odira Ezeh, said this during an interactive session with newsmen in Awka on Tuesday.
FALAS is the umbrella body of Law students and young lawyers across the continent.
Ezeh, a student of Chukwuemeka Odumegwu Ojukwu University, Igbariam in Anambra, was elected at the just-concluded Second Annual Conference of the body held between Oct. 3 and Oct. 5 at the University of Witwatersrand, Johannesburg, South Africa.
He said the new leadership would manage the affairs of the federation for one year.
Ezeh said the collaboration between the group and law students in other continents, like America, Europe and Asia, was aimed at acquainting themselves with new developments in their different legal environments and work towards convergence.
He further said that the group would further explore scholarship opportunities for members.
According to him, collaboration with our colleagues in other continents would engender greater cooperation among African law students and ensure continued unification of voices in Africa.
As the head of Diplomacy and External Affairs of FALAS, I shall work towards better collaboration in the areas of intellectual exchange, sponsorship opportunities and law updates with students across the world, he said.
Ezeh said that six other officers elected at the conference included Siaffa Kemokai from Liberia (President), Monica Tembo from Zimbabwe (Vice President) and Abigail Ampumuza from Uganda (General Secretary).
Others were Justice Emeh, Nigerian (Deputy General Secretary), Gerald Uchem, Nigerian (Welfare Secretary) and Nokuthula Songo from South Africa, Director of Information and Protocol. (NAN)(www.nannews.ng)
=========
Edited by Sam Oditah
Source: NAN News