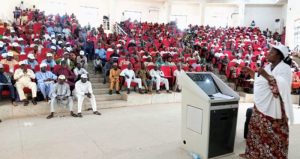 Desk Officer, Better Education Service Delivery for All (BESDA) programme, Kaduna SUBEB, Mrs Josephine Michael, addressing participants at a one-day sensitisation on the enrolment of out-of-school children in Kafanchan
By Philip Yatai
The Kaduna State Government has pledged to provide adequate school furniture, Water, Sanitation and Hygiene (WASH) and other facilities to encourage school enrolment and retention in public primary schools.
The Executive Chairman, Kaduna Basic Education Board (Kaduna SUBEB), Alhaji Tijjani Abdullahi made the promise in Kafanchan, during a one-day sensitisation campaign on the enrolment of out-of-school children in the state.
The News Agency of Nigeria (NAN) reports that the campaign was organised by the Kaduna SUBEB, under the World Bank-supported Better Education Service Delivery for All (BESDA) programme.
Abdullahi, who was represented by Malam Kabiru Lawal, acting Director of Social Mobilisation, said that the government was also working to improve security in schools and improve teachers capacity for quality teaching and learning.
He called on the School-Based Management Committees (SBMCs) to step in, particularly in the provision of WASH facilities when necessary before while awaiting government intervention.
He explained that the enrolment campaign was to mobilise relevant stakeholders to support the government to mop-up out-of-school children in the streets, motor parks, farms, houses, markets, and other places.
Also speaking during the campaign, Mrs Josephine Michael, Desk Officer of BESDA, Kaduna SUBEB, said that the effort was to ensure that no child was left behind in the government drive to provide quality education to all.
Michael appealed to the stakeholders to support the state government efforts to address the menace of out-of-school toward building the needed human capital that would move the state forward.
BESDA, a Programme for Result (P for R) was initiated by the Universal Basic Education Commission (UBEC) with support from the Federal Ministry of Education, designed to address the menace of out-of-school children.
The programme began in 2019, with a 611 million dollars loan from the World Bank, which the Federal Government gave 17 participating states with the highest number of out-of-school children as grant.
Also, Malam Magaji Mohammed, Community Participation Officer, Kaduna SUBEB, urged the stakeholders to strengthen advocacy and sensitisation to ensure that no child was left behind.
He noted that the government was doing the best it could to provide the needed facilities in schools to enable children to learn in line with the states free and compulsory basic education.
Earlier, community stakeholders from Jemaa, Kaura, Zangon Kataf and Sanga Local Government Areas of the state commended the government efforts to enrol out-of-school children in school.
They, however, urged the government to improve security in schools and provide adequate school furniture and WASH facilities.
One of them, Mr Peter Owaze, said that the provisions of school furniture and other facilities would encourage children to enrol in school and remain in school.
On his part, Mr Ango Arkilawus, lamented that some teachers and pupils were struggling for space in bushes around public school due to lack of toilet and water facilities.
NAN reports that religious and community leaders at the meeting pledged to sensitise community members on the importance of education and work with parents and caregivers to enrol their children in school. (NAN) (www.nannews.ng)
===========
Edited by Sadiya Hamza
Source: NAN News