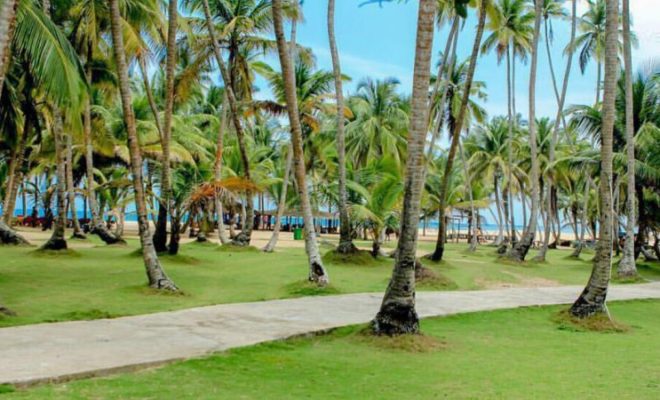 Living life to the fullest does not just happen; we have got to work it out. This means finding a balance between work and rest. And what better way is there to do this than finding a place to relax and enjoy what nature has got in place for one. Talk about somewhere you can slip into and let the pressure of life struggles off your mind.
This is exactly why beach resorts are there for you and in the light of this, we shall be looking at five (5) amazing beach resorts we have around – in Nigeria.
Abraka Beach Resort
Abraka Beach Resort is no doubt a wonder in the Niger. The resort is located along Agbor-Sapele road, in Abraka, Delta state, and it is right on the coastline of River Ethiope. The resort has got white sandy beach and the things you need to relax [there] as you sink into the tranquillity of its natural space. But should that not be enough, taking a cruise through the river or engaging in some sporting activities will ensure that you do not have a dull time-out on the beach.
Finima Beach Resort
Finima beach resort is situated on Bonny Island, Rivers State. It is surrounded by the Atlantic Ocean, and it is a choice vacation spot for a host of pleasure seekers. The extensively stretched beach and the cool sea breeze on offer at this resort make it a place to spend a day out with your family.
Inagbe Beach Resort
This resort may not be a very popular one among folks but it is no pushover when considering excellent spots for relaxation in Lagos state – and even Nigeria as a whole. It is located on Inagbe Island, and it is just a 15-minute boat ride from Victoria Island. Besides the 'goodies' nature has to serve you while on this island, you will also get to utilize the classy amenities provided therein. There are accommodation spaces, swimming pool, spa among other exciting add-ons. Plus, security is well guaranteed at this very (relaxation) spot.
La Campagne Tropicana
The first thought that crosses the mind of many persons when Lagos is being talked about is a busy city [filled with commercial activities]. But there is more to Lagos than that, and a visit to an exotic resort like La Campagne Tropicana will let you in on what I mean. This resort is located at Ikegun, Ibeju-Lekki along Epe Expressway in Lagos. The facilities at La Campagne Tropicana are top-notch, and there are chalets available for anyone who desires to spend the night within this beautiful natural space as he/she beholds the sun setting over the Atlantic Ocean. A good zone for a couple to spend some time together.
Whispering Palms
All the way down to Badagry, Lagos state – in Iworo town to be precise – is a serene resort known to be surrounded with tremendous natural endowments, the Whispering Palms Resort. It lies on the lagoon, and it is encompassed by lush green vegetation. It provides a great getaway for those who desire to escape from routine 'busyness' of life. The cool, breezy atmosphere around this resort is second to none. There are also facilities as well as rooms available for vacationers' use.
This is definitely not an exhausting list [of wonderful beach resorts] around the country; there are a whole lot more, and these, we hope to talk about in subsequent reviews.