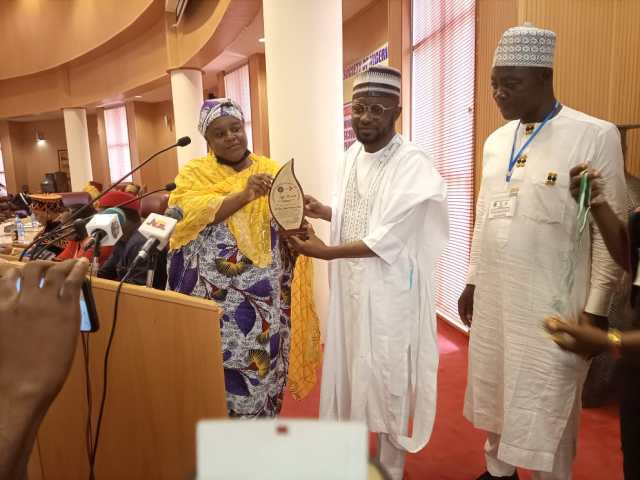 By Salisu Sani-Idris
Alhaji Ahmed Wadada, the Chairman, Peugeot Automobile Nigeria Ltd. (PAN) has pledged educational support to the Commonwealth Society of Nigeria towards upgrading educational facilities in the country.
Wadada made the pledge shortly after receiving the prestigious Ambassadorial Award in recognition of his selfless service to the nation, by the society, on Thursday in Abuja.
Represented by Alhaji Umar Danyaya, who holds the traditional title of Dan Amanan Keffi, Wadada said that the award had motivated him to do more for the countrys educational sector.
The former two-term member of the House of Representatives revealed that he had been contributing to the nations educational sector with the proceeds realised from his annual Keffi Polo Ranch Tournament.
Wadada, therefore, gave assurance that members of the Commonwealth Society of Nigeria would be included in future projects of the Keffi Polo Ranch tournament and his foundation.
According to him, the decision to include the society in his foundations programme was to enable more indigent students to achieve their dreams in education.
The PAN boss argued that the ravaging youth restiveness and other criminalities could be curtailed by empowering the younger generation with sustainable means of livelihood.
Earlier, the Secretary-General of Commonwealth society, Mr Musa Abubakar, explained that the award was in line with the annual commonwealth agenda to honour deserving individuals during the opening ceremony of the Africa Inter Tertiary Schools Debates Competition.
According to Abubakar, the nomination of Wadada for the award is in recognition of his contribution to national development.
The extensive verification of your record and credentials confirmed your exceptional and unblemished stewardship of service to the nation.
Your selection is also in recognition of your inestimable contribution to the wellbeing of mankind, Abubakar said.
The News Agency of Nigeria (NAN) reports that the event was attended by students from all member countries.
Source: NAN News