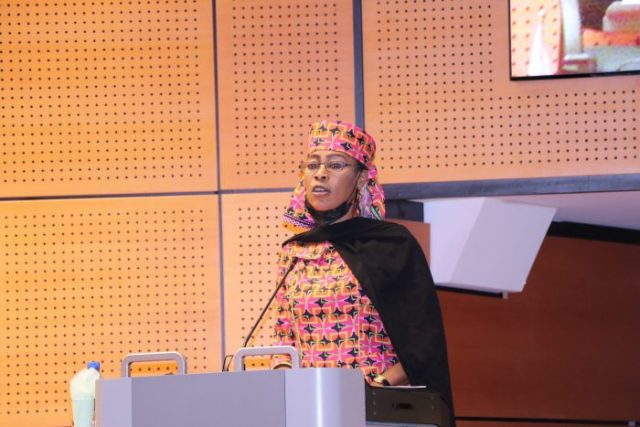 By Lizzy Okoji
Lynda Ikpeazu, member of the ECOWAS Parliament representing Nigeria, has told the Parliament that Nigeria has not lost control in the fight against insecurity and is determined to ending the menace.
Ikpeazu made this known on Thursday in Abuja during the ongoing Extraordinary Session of the Parliament, responding to recommendations for a concerted regional effort to assist Nigeria fight the insecurity ravaging the country.
Ikpeazu, who appreciated Members of Parliament for their concerns, said that Nigeria was exploring all measures with high level of determination to fight terrorism, banditry and other forms of violence.
She said that insecurity in the region was not peculiar to Nigeria, stating that the nation had a stable political situation.
Nigeria is determined to solve the insecurity confronting the country and several efforts are ongoing.
We are, however, not too big to get help from anyone and I am not the Executive so I cannot speak on that.
Nigeria is not the only country in the region facing insecurity and we are not just folding our hands, there are serious efforts ongoing in the fight against insecurity, Ikpeazu said.
Ikpeazu noted that insecurity was a ripple effect of bad governance, poverty and human rights violation and that was why the Nigerian National Assembly had taken steps of its constitution amendment to address triggers of insecurity.
She said that the House of Representative convened a summit of the Constitution amendment to get the input of all Nigerians in the process,
The National Assembly is holding public hearing across the country to get the suggestions from the Nigerian people on the best ways to govern the country.
This will enable us to get the views and contributions of Nigeria to constitution process which would in turn make them have a feeling of inclusiveness in the process.
Nigeria has definitely not lost control, we have a situation and we are working tirelessly towards addressing it, Ikpeazu added.
Mr Francis Alimikhena, another Nigerian representative at the ECOWAS Parliament said that Nigeria had taken several steps which had yielded positive results in the fight against terrorism.
Alimikhena, however, noted that a collaborated joint-border approach would further help Nigeria and the region in winning the war against terror as most of the insurgents were habouring in neigbouring countries.
If we get the cooperation of other neighbouring countries then we can be sure to win in the fight.
Because most of the terrorism elements when they are being fought from Nigeria, habour and begin to operate from bordering countries.
The Nigerian government and the military have been responsive, that is why when Nigerians clamoured for change of Service Chiefs, they were changed.
And with the way the new Service Chiefs are going we are sure that the war in the North/East will soon be a thing of the past, Alimikhena said. (NAN)
Source: NAN News