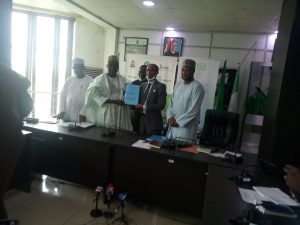 By Felicia Imohimi
The International Funds for Agricultural Development-Value Chain Development Programme (IFAD-VCDP) and the Nigerian Meteorological Agency (NiMet)
have signed a Memorandum of Understand (MoU) for agricultural sustainability and enhancement.
Prof. Mansur Matazu, NiMets Director-General, at the ceremony in Abuja said that the IFAD-VCDP and NiMet project would enable the agency to have direct contact with the lead farmers as well as the climate change agent at the community level.
Matazu emphasised that weather and climate forecast was very critical to the agency for easier monitoring of the performance of forecast for farmers as well as feedback.
He added that the agency through the partnership would be abreast of the demand of farmers.
The director-general noted that the agency had set up technical committee for the implementation of the project.
According to him, it has been established in the global altitude for weather information for agriculture that agriculture enhances over 80 per cent per yield.
Therefore, climate risk can be reduced by 90 per cent under this partnership. Our partnership with IFAD-VCDP is a great thing by helping us in fulfilling part of our mandates.
We need to reach out to farmers especially at the grassroots and some partners that have already been on the field.
The partnership makes us do the downscaling activities smoothly, we use this platform to provide services to farmers easily and you.
Earlier, Alhaji Garba Bala, IFAD-VCDP National Programme Coordinator, noted that the project would be piloted in nine states which included Anambra, Ebonyi, Kogi, Nasarawa, Taraba, Niger, Benue, Ogun and Enugu.
Bala said that the VCDP programme was targeted at the poorest of the poor farmers farming below one hectare of land.
He identified climate-related issues and support as key performance indication for VCDP project describing the partnership as timely due to the commencement of the rainy season.
Bala said that the project would provide climate weather information to VCDP farmers.
According to him, the MoU is to get technical assistant from NiMet on climate information for farmers to boost production of rice and cassava in the targeted states.(NAN)
Source: NAN News