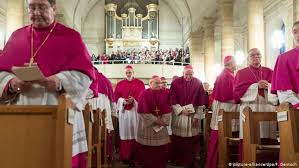 The German Catholic Church has been rocked by a fresh crisis following the shock resignation of one of its most influential bishops over the Churchs sexual abuse scandal.
In essence, for me, it is a matter of sharing responsibility for the catastrophe of sexual abuse by church officials over the past decades, Cardinal Reinhard Marx wrote to the pope in a letter released on Friday.
A former president of Germany BishopsConference, Marx is one of the nations most influential church leaders.
The German Catholic Church is one of the wealthiest in the world.
Marx, the bishop of Munich, said the investigations and expert reports over the past 10 years consistently showed that there had been a lot of personal failure and administrative errors, but also institutional or systemic failure.
Marxs letter was sent to the pope nearly a fortnight ago but was only made public on Friday.
His resignation offer came after the pope last month stepped into the scandal that has engulfed the Catholic Church in Cologne byordering a review of the west German citys handling of a sex abuse scandal.
The pope plans to dispatch a so-called apostolic visitation to Germanys largest diocese this month to investigate possible errors carried out by Cologne Cardinal Rainer Maria Woelki in handling the claims of sexual misconduct by priests.
Marx described in a newspaper interview last year the decision not to publish a probe into clergy sexual abuse undertaken by the Cologne Archdiocese as devastating for the entire Catholic Church.
An expert report on cases of sexual abuse in the Munich and Freising archdiocese is expected to be completed in the coming months with the probe focused on how sexual abuse by priests in the diocese was possible and whether high-ranking clergy protected perpetrators.
In his letter to the pope, Marx said he had repeatedly considered resigning from office in recent months.
Events and discussions of recent weeks play only a secondary role in this, Marx wrote, saying his plan to resign was a very personal decision.
I want to make it clear: I am ready to take personal responsibility, not only for my own mistakes but for the church as an institution, which I have helped shape and mould for decades.
Marx plans to continue his work as a bishop until a decision is made on his resignation. (dpa/NAN)
Source: NAN News