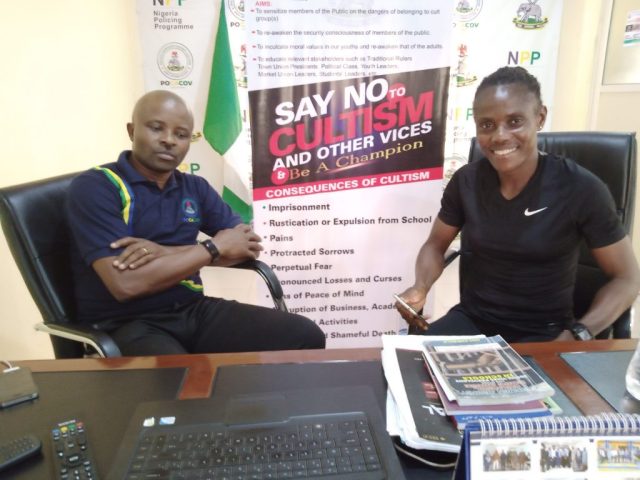 By Stanley Nwanosike
A Nigerian-born FIFA Badge Football Referee, Ndidi Madu, on Friday urged Nigerian youths to be focused and dedicated to the pursuit of their goals in life.
Madu gave the advice when she paid a courtesy call on CSP Ebere Amaraizu, National Coordinator of Police Campaign Against Cultism and Other Vices (POCACOV) at the POCACOV Resource Centre in Enugu.
According to her, hard work, dedication, discipline, focus and defining your goals early in life have a lot to do for one to be a champion in his or her field of endeavour.
Madu, who is a POCACOV Ambassador, urged youths to shun cultism, substance and drug abuse as well as other negative tendencies that usually derail them from remaining focused and making it as champions.
Becoming a champion has a lot to do with adequate discipline, dedication and focus.
As a person, you must marshal out and define your goals in life and pursue them with the right mindset to become a champion, she said.
Madu, who recounted her sojourn into the football referee duties as an athlete, said that today, her exploits had made Nigeria and indeed African proud.
She urged all to join hands with the Nigeria Police through POCACOV to stand against cultism and other vices in the country for strategic leadership direction and self-discovery for youths.
This is a nice programme by the Nigeria Police Force for the youths and we need to fully support it, she added.
Responding, Amaraizu, who also doubles as the South-East Director of Nigeria National League One, appreciatedMadu for her hard work and dedication which had taken her to the FIFA level.
He encouraged her to maintain the tempo as it is not easy to get to the top and to remain there.
The News Agency of Nigeria (NAN) reports that Madu is an Enugu-based female referee of the Nigerian Football Referee Association that has made marks for Nigeria and Africa in football officiating hence her badging by FIFA.
She has also been appointed by FIFA as a football referee to officiate at the up-coming Tokyo 2021 Olympic in Japan. (NAN)
Source: NAN News