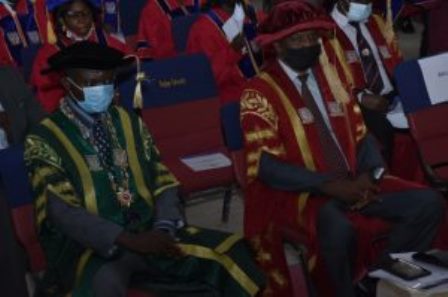 By Naomi Sharang
Bingham University, Karu, Nasarawa State on Friday matriculated 1, 376 students for the 2020/2021 Academic Session.
The Vice-Chancellor of the Institute, Prof. William Qurix, who administered the Oath of Matriculation on the students, noted that the event was the 16th since the inception of the school.
Qurix said that a total of 2, 364 candidates applied to the university to study various courses out of which 1, 376 were granted admission.
In the same vein, today (Friday) also marks the matriculation of 387 of our postgraduate students into various postgraduate programmes offered by the university, he said
He said that since the commencement of academic activities in 2006, the university had maintained a steady academic calendar and continued to churn out high-quality graduates into the nation and world labour market.
The vice-chancellor said that the institution currently operated 64 academic programmes with 46 established in the last three years.
On the rate of insecurity in the country, Qurix called on the Federal Government to pay special attention to schools to curb the menace of kidnappings.
We pray that they will pay special attention to schools to enable normal academic life to continue.
Security measures are not measures you tout around in the open. We are conscious of the happenings around society. We are also doing our best to secure the students, he said.
In a paper presentation, Prof. Raymond Bako, Faculty of Education, Ahmadu Bello University, Zaria urged the students to reflect on their lives and make a renewed commitment to serve God and make the right decisions that would make them succeed in life.
He spoke on the topic Balancing your academic, social and spiritual life on campus.
Bako also called on the students to shun all social vices including sexual immortality and get-rich-quick activities.
One of the students, Tuta Joseph, who spoke with the News Agency of Nigeria (NAN) appreciated God for leading him through primary, secondary and now university.
At 17 years, I feel honoured. Its a great privilege to be in Bingham University, he said. (NAN)
Source: NAN News