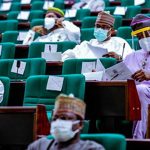 By Femi Ogunshola
The House of Representatives on Monday mandated the NNPC and the CBN to nip the planned strike by airline operators in the bud.
It enjoined the two government agencies to provide the required assistance and declared that airline operators should name fuel marketer of their choice to supply them aviation fuel over the next three months.
The House enjoined marketers to begin the process of application for licences to import aviation fuel without intervention by middlemen.
It ruled that the six million litres of aviation fuel available should be sold at N480 per litre to the operators.
Speaker of the House, Rep Femi Gbajabiamila, had earlier lamented that certain resolutions of the House in the past had not been implemented leading to the impasse being witnessed in the aviation sector.
He added that although the strike had been called off, the nation did not need to wait for threats of strikes to nip them in the bud.
Gbajabiamila lamented that since the last meeting between the airline operators and the House, there had not been an effective communication as to the resolution of the issue.
In his reaction, Mr Allen Onyeama, Chairman, Air Peace,who represented the airline operators, said the sale of aviation fuel at N500 per litre was still on the high side.
He added that aviation fuel cost should not take more than 40 per cent of airline operators total operating cost.
Alhaji Abdulmunaf Sarina, Chairman, Airline Operators Association of Nigeria who is also the Chairman, Azman Airline,noted that 75 per cent of aviation fuel was imported by the NNPC through Duke Oil.
He added that as a palliative, the NNPC should supply the 25,000 tonnes of aviation fuel promised to the operators which was approved by President Muhammadu Buhari.
He observed that earlier resolution on aviation fuel price reached with the operators was not implemented.
Group Managing Director of NNPC Ltd., Mr Mele Kyari, however, countered that the agreed price of aviation fuel was not implementedbecause of price volatility.
Kyari added that going by market forces, the price of aviation fuel could be as high as N700 per lire, adding that the way out was for government to subsidise the price.
He noted also that accessibility to Foreign Exchange was another constraint face by airline operators.
CBN Governor, Godwin Emefiele on his part said oil theft in the Niger Delta was exacerbating the unavailability of Foreign Exchange.
He said that the CBN had no Foreign Exchange to aviation operators and that since the landing cost of aviation fuel was N460 per litre, the price would come to N550 per litre at the pump.
Emefiele said that the CBN would not grant any concession because it would amount to giving subsidy to aviation operators.
He said that there was need to look at the pricing structure that the operators were talking about, adding that the situation was getting attention from the Presidency.
I compelled some fuel marketers to take the loss and to sell aviation fuel at N480 per litre after getting a call from the Chief of Staff to the President that the operators were planning a strike and I promised to intervene, Emefiele said. (NAN) (www.nannews.ng)
============
Edited by Hawa Lawal/Alli Hakeem
Source: NAN News