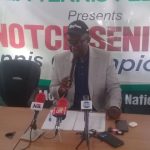 By Georgina Adegbie
Marylove Edwards, Mary TenuMicheal, Oyinlomo Quadri, Stella Udokwelu and Racheal Adunoye were among players who on Monday advanced to the second round of the ongoing DavNotch National Open Tennis Championship.
The News Agency of Nigeria (NAN) reports that they progressed after first round games in the ongoing competition at the Moshood Abiola National Stadium in Abuja.
Edwards defeated Loveth Ogah 6-1 6-1, while TenuMicheal beat Blessing Anoma 6-2 6-1.
Quadri on her part beat Destiny Okhinaye 6-1 6-4, while Udokwelu beat Esther Olamide 6-1 3-6 6-4 and Adunoye beat Maryam Salami 6-1 6-2.
Quadri, a former national number one, later told NAN that the game was like a training session for her ahead of playing in the competitions final match.
The game was like a warm-up for me. I have come to win this second edition of the championship.
It is in the quarter-finals to the final rounds that I expect to put in my full strength in my game. Todays (Mondays) match was an easy game for me she said.
NAN reports that DavNotch Nigeria Limited is sponsoring the competition, which is being organised by the Nigeria Tennis Federation (NTF).
The main draw of the championship started on Monday in the female category with the round of 32 matches.
A total of 64 players will feature in the main draw of the championships male category.
The championship which started on Thursday is expected to end on Saturday. (NAN)(www.nannews.ng)
=========
Edited by Olawale Alabi
Source: NAN News