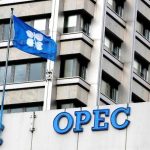 By Emmanuella Anokam
The Organisation of Petroleum Exporting Countries (OPEC) says the sixth Iraq Energy Forum (IEF) will host the formal launch of OPECs history book to commemorate the organisations 60th anniversary.
The history book, titled OPEC 60 years and beyond: A story of courage, cooperation and commitment, was prepared to commemorate the organisations 60th anniversary.
According to a statement by OPEC on Tuesday, obtained by the News Agency of Nigeria (NAN) the sixth Iraq Energy Forum (IEF) is slated to hold in Baghdad, Iraq, from June 18, to June 20.
OPEC Secretary-General, Dr Mohammad Barkindo, will be in attendance, it said.
The statement said the focus of the publication was to bring to a wider readership OPECs history, its objectives and its achievements over its first six decades.
It said the Iraq Energy Forum, the countrys energy and economic flagship event, would provide platform for lively discussion and interactive exchange between a wide range of industry stakeholders.
In its sixth iteration, the forum will attract government officials, policy-makers, decision-makers, industry leaders, experts and analysts from Iraq and beyond.
The event will be held under the theme The Middle East as The Cornerstone of Global Energy Security.
It will cover a number of key issues related to energy, including global energy security, the energy transition, uncertainties related to economic recovery, investment, as well as sustainable development, it said.
It noted that the the Secretary-General would also receive the prestigious 2022 Iraq Energy Award from the Iraq Energy Institute for his years of dedication to the organisation, its Member Countries, the energy industry, and his support to Iraq and its people.
The statement quoted the Secretary-General as stating: We are extremely excited to return to Baghdad and to take part in the sixth IEF, which is taking place at a decisive moment in the history of the energy sector.
IEF 2022 promises thought-provoking discussions on some of the most important issues of our times, from global energy security to the Middle Easts key role in the energy transition.
Since I attended the first IEF in 2016, the forum has grown into a premier regional event that attracts luminaries from Iraqs energy industry, high-level policymakers and some of the foremost thinkers on energy, Barkindo said.
He said as the birthplace of OPEC in 1960 and one of the worlds most important oil providers, Iraq, the cradle of civilisation and the land of prophets, was especially well suited to host discussions on how to ensure a stable, secure and sustainable energy future for all.
Ali Allawi, Iraqs Deputy Prime Minister of Economic Affairs and Minister of Finance, is among the confirmed participants in the leading energy industry event.
OPEC Secretary-General participated in the Iraq Energy Forum in 2019. (NAN)(www.nannews.ng)
=========
Edited by Donald Ugwu
Source: NAN News