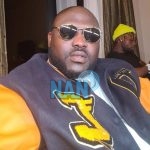 By Emmanuel Afonne
Music Promoter Peter Omotoso, popularly known as Pedrotech has called on the Federal Government to issue a bailout fund to the Nigerian music industry to boost the sector.
Omotoso, the Chief Executive Officer (CEO) of Pedrotech World Limited, an entertainment and management company based in the UK, made the call in an interview with the News Agency of Nigeria (NAN), in Abuja on Wednesday.
He said the bailout fund was needed to avoid the looming crash of the music industry, and to enable hunters of music talents and other stakeholders reposition the sector in Nigeria for better results.
It will be a good step in the right direction if there can be a bailout for the Nigerian music industry, because as a talent hunter, almost everyone you see on the street has one unique talent or the other.
Only few are able to fight their way to the top, and that is why many are still irrelevant.
We need to invest in the industry and to get better results, it will be beneficial to the country on the global stage, Omotoso said.
According to him, massive funds are needed in the music industry to make the country stand out and maintain its music uniqueness in the world market.
Omotoso said that Nigerian music had a unique selling point with its sound and genre, which had made it the cynosure of international artistes, who now craved for collaboration with Nigerian performers.
Nigerian music is on another level now and the competition between artistes is getting tougher by the day.
Those days when you have a hit song making waves throughout the year is long gone; hits now hardly last for more than three months.
We create good music and the fact that Afrobeat is recognised and appreciated globally, is a big plus to the industry.
The Nigerian music industry is inestimable because we have not even explored 10 per cent of the talents we have, and when you hear the figures exchanging hands within the industry, you will understand what I am talking about.
To bill an artiste for an event, or collaboration, or advert, it is in large figures. There is so much to make in the industry and I see it not declining but progressing ultimately, he added.
The music promoter urged upcoming artistes to pay less attention to fans who always compared artistes, because this had led to unhealthy competition.
Even when they have a hit song, they should not be relaxed with a hit, but work positively and be surrounded by positivity, Omotoso added.
NAN reports that Omotoso who is a promoter, talent manager and a global entertainment plug, who has worked with Nigerian music artistes such as Style-plus, Durella and Zlatan.
He currently manages Commissioner Dj Wysei. (NAN) ()
========
Edited by Nyisom Fiyigon Dore
Source: NAN News