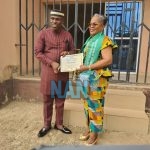 By Patricia Amogu
Prof. Ebele Uzodike, Registrar/ CEO of Optometrist and Dispensing Opticians Registration Board of Nigeria (ODORBN) has been conferred with the Integrity Icon of Nigeria, Ethical conduct and Self-Value awards.
The investiture and award which had 250 Federal MDAs secretly investigated and scrutinized, with about 20 emerging finalists had ODORBN clinging Second position.
The awards were presented by the Centre for Ethics and self-value orientation in Abuja.
Uzodike in her remarks said the honor would spur her to capitalize on what the board has done credibly well already to deserve this honor and build on them to achieve greater heights.
They have recognised me in three categories, in the areas of Ethics, Transparency and Selfless service, I have had several awards but I have never dreamt of being honored with multiple awards in one standing.
Leaders must do what they must to make a good name for themselves while in the office.
Money is not everything, your staff take-home pay and remuneration must be paramount if you must hold them accountable in the discharge of duties.
Look into your management, they must work as a team, if all hands will be on deck within a period of 5 to 10 years this country will be a beautiful place, she said.
The professor thanked the Centre for Ethics and Self-Value Orientation (CESVO) for honoring her and the ODORBN management team with the award.
The Executive Director, CESVO, Prince Yakubu Salih Musa said that various criteria were put in place while checking credibility of the MDAs to receive the awards including checking for participatory management style, staff welfare and discipline.
We are privileged to be in this very strategic agency that have conducted their affairs with credibility and transparency, with innovative leadership skills, we are here to thank the management for a job well done.
We honor them for changing the narrative of governance and corruption in Nigeria, we have also offered awards to five heads of department and six heads of units.
We are also going to be conducting a retreat and training on Ethics for the awarded staff of the Agency later in the year as part of our recognitions for their contributions to better the face of governance in Nigeria, he said.
Uzodike has many awards to her feather including Award for the best final year student in Clinical Optometry, Certificate of professional achievements, health leadership impact award, icon of humanitarian service among others (NAN)(www.nannews.ng)
Edited by Isaac Aregbesola
Source: NAN News