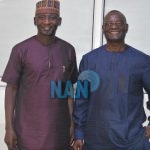 By Lucy Ogalue
The Nigerian Shippers Council (NSC) has reiterated deepened commitment to the promotion of the countrys non-oil export.
Mr Emmanuel Jime, Executive Secretary, NSC, said this when Dr Ezra Yakusak, Executive Secretary, Nigerian Export Promotion Council (NEPC) led a team to visit him on Tuesday in Abuja.
Jime expressed the councils readiness to partner with the NEPC to ensure compliance of trade rules by exporters and importers in the country.
I am informed that there is a high level of non compliance to trade rules, now we think that this is actually a problem of both importers and exporters.
So to address this challenge the NSC will like to collaborate with you to organise more enlightenment seminars and you have already called for it, so this is our acceptance of the need to have that partnership.
And in doing this, we intend that there should be seminars so that exporters and importers can imbibe ethics of integrity in international trade.
These are areas I think that partnership will lead us into developing and understanding.
The NSC is fully committed, I want to promise you this, to support all measures towards promoting non-oil export in Nigeria.
And in this regard, we are ready to synergise and collaborate with the Nigerian Export Promotion Council to be able to achieve this, he said.
On the Domestic Export Warehouse (DEW), Jime explained that it was the councils duty in collaboration with critical agencies to develop the standard operating procedures for the warehouse.
We think we also need to provide guiedlines for setting of tarrif for the operation of the export warehouses, he said.
Jime advocated the usage of the inland dryport as part of the domestic warehouses.
He said the council would create a level playing field for ports service providers, users and exporters.
We intend to remain fair in our activities.
We are unbiased and we think its our job to ensure that decisions taken in the ports sector are arrived at true consultations with all the stakeholders.
Jime granted the request of Yakusak to assign some officers of the NSC to join the NEPC team in a walk aimed at sensitising Nigerians on the need to massively invest in the non-oil sector on May 13.
Earlier, the NEPC boss commended the NSCs efforts and collaboration aimed towards repositioning the non-oil sector of the country.
While also commending shippers council for the role they were playing on the DEW project, Yakusat appealed that a desk officer be assigned as liaison on the DEW matters and project.
I also want to request that an officer be specifically assigned as liaison on the domestic export warehouse matters and project.
This will ensure smooth interface between operators of the project and exporters as well as speedy or smooth take off of the project.
The News Agency of Nigeria (NAN) reports that the DEW initiative, when fully implemented, will curb logistic constraints in the non-oil sector.(NAN)
Source: NAN News