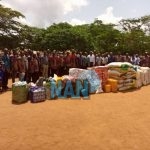 By Deborah Coker
Mens Fellowship of the Redeem Christian Church of God (RCCG), Region 13, Edo, donated relief materials to Internally Displaced Persons at Uhogua, Ovia North East Local Government Area on Saturday.
Presenting the foodstuffs, toiletries, clothing and disinfectants among others, leader of the team, Pastor Bode Olojede, said the overture was part of activities marking the Fellowships convention.
Olojede, also the Assistant Pastor in charge of Region 13, said: we are starting the Redeemers Mens Fellowship convention, and we felt that the best way to start is to identify with the less privileged.
God has blessed us to be heads of families. We believe that there are people that have not gotten access to the kind of hospitality and enjoyment that we have in our families.
We need to bring it down to the basics. That is why we are here today to ensure that these children also have a touch of the blessings that God has bestowed upon us.
Olojede admonished the IDPs not to despair as their future was bright and they would live and grow to achieve their purposes in life and become future leaders.
One thing I know is that as the sun continues to rise and set, you will never fail in Jesus name. Your tomorrow will be bright.
Amongst you will be presidents of this country, professors, medical doctors, wives of governors and even first female governors, he prayed.
Acknowledging the gesture, Pastor Solomon Folorunsho, Coordinator of the camp said that the presence of the team was a great relief and inspiration.
Folorunsho said some of the IDPs were doing well academically in their schools, adding that there were about 157 of the former inmates currently in institutions of higher learning across the country.
He assured that management of the camp would continue to give its best, noting that the RCCG had been one of the camps biggest supporters.
With the calibre of people that came today to show support and inspire these children, and with the speeches and prayers, I know the children here have been inspired the more, he said.
Folorunsho appealed for more support for the IDPs from well-meaning individuals and groups.
We need people to sponsor and fund the education of those in school. They also need scholarships.
Many of them are now in 400 level studying Medicine. They need every encouragement, the coordinator stressed. (NAN) (www.nannews.ng)
Edited by Alli Hakeem
Source: NAN News