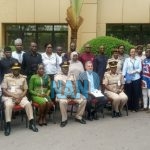 By Aderogba George
Dr Fatima Waziri-Azi, Director-General, National Agency for Prohibition of Trafficking in Persons (NAPTIP), has called for capacity building and collaboration among stakeholders to curb the menace of irregular migration and trafficking.
Waziri-Azi made the call on Tuesday in Abuja at the inaugural committee meeting of stakeholders on border management.
The News Agency of Nigeria (NAN) reports that the meeting was hosted by Nigeria Immigration Service (NIS), supported by International and Ibero-American Foundation for Administration and Public Policies (FIIAPP).
FIIAPP is the provider of a project tagged: Action Against Trafficking in Persons and Smuggling of Migrants in Nigeria (A-TIPSOM), funded by European Union.
NAN reports that the stakeholders at the programme included: NIS, NAPTIP, Nigeria Police Force (NPF) and Nigerians in Diaspora Commission (NiDCOM), among others.
Waziri-Azi stressed the need for capacity building among stakeholders and robust collaboration in order to win the war against irregular migration and human trafficking.
According to her, NAPTIP alone cannot tackle irregular migration and human trafficking alone, adding: that this is why the platform for collaboration is important, as both concepts involve movement of people.
We need to keep building on our capacity to tackle this menace; there is rapid shift from offline recruitment to online recruitment.
We in NAPTIP cannot do this alone; we rely on our sister agencies to do the work effectively.
Collaboration is crucial, and this platform will solidify our relationship. We must keep on encouraging ourselves and working together, she said.
The acting Comptroller-General (CG) of Nigeria Immigration Service (NIS), Alhaji Idris Jere, urged the committee to work in line with the demands of their job and the acts regulating their various agencies.
Jere, who was represented by a Deputy Comptroller-General in charge of Visa and Residency, Mr Ishaka Haliru, urged the committee to see themselves as stakeholders in the protection of Nigeria.
He said it was worrisome to see many Nigerians showing disrespect for uniformed personnel, saying that ironically, the same Nigerians showed their different sides to uniformed personnelanytime they travelled outside the country.
Jere, however, called on the stakeholders to also up their games through improved attitudinal change in their interactions and dealings with members of the public.
According to him, it is only when there is confidence building that credible sharing of information among stakeholders can be achieved.
He also stressed the importance of border community relationship in tackling the menace of irregular migration and human trafficking.
Jere also underscored the benefits that members would get from the training at the inaugural meeting, which, he said, would go a long way in achieving effective border management.
Earlier in his address of welcome, the A-TIPSOM Team Leader, Mr Rafael-Rios Molina, called for mutual understanding among the stakeholders, saying that this had become necessary in order to conquer the issue of irregular migration.
According to him, FIIAPP, as the foundation providing the A-TIPSOM project to Nigeria, is determined to supporting the country in tackling irregular migration and human trafficking-related issues.
He said that A-TIPSOM project was working in different areas, covering national, international and regional levels, while thanking all the stakeholders for their determination to work their talk.
Chairman of the committee, ACG Aminu Mohammed and Co-Chairman, Mr Daniel Atokolo of NAPTIP, expressed readiness to do their best to ensure proper management of the nations borders. (NAN)()
=============
Edited by Kevin Okunzuwa and Wale Sadeeq
Source: NAN News