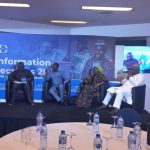 By Ijeoma Olorunfemi
The Centre for Journalism Innovation and Development (CJID),House of Representatives Committee on Electoral Matters and other stakeholders have warned against the impact of disinformation ahead of the 2023 general elections.
They gave the warning on Thursday at a dialogue with key election stakeholders which focused on Disinformation in Elections 2022 in Abuja.
The dialogue was organised by CJID and funded by the National Endowment Fund (NEF).
The Executive Director of CJID, Dr Tobi Oluwatola categorised information disorder into misinformation, disinformation and misinformation which had the capacity of causing harm in the society.
Sen. Ovie Omo-Agege, Deputy President of the Senate said that electioneering umpires like the INEC were exposed to cyber attacks no matter how minimal.
Represented by Dr Chuba Keshi, he said that misinformation could be caused by laziness or mistakes by relevant media systems.
He advised that the election umpires should build on their technology systems to protect against attacks that could disrupt the processes.
Mr Dapo Olorunyomi, Chief Executive Officer of Premium Times, while conducting a training on Disinformation and Fact-checking in Elections, said the transition from analogue to digital form of media had affected information dissemination.
Olorunyomi advised that relevant stakeholders should follow standard guidelines of election like the African Charter on Democracy, Election and Governance.
He also suggested that the government should allocate sufficient funds to the NOA for political education to address disinformation.
The event was part of CJIDs effort, through its Media in National Elections (MiNE) and Fact-checking (DUBAWA) projects, to ensure the provision of accurate information to Nigerians before, during and after the 2023 elections.(NAN) (www.nannews.ng)
==========
Edited by Bashir Rabe Mani
Source: NAN News