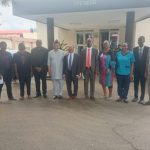 By Kemi Akintokun
The Lagos State University Teaching Hospital in partnership with the Cardiovascular Education Foundation, an NGO, has commenced a cardiac mission intervention targeted at offering treatment to patients with cardiovascular diseases.
Prof. Adetokunbo Fabamwo, the Chief Medical Director of LASUTH, who spoke at a news conference organised on Friday to commence the programme said the intervention was a landmark event.
What we are doing here today is about interventional cardiovascular procedures that we have lined up for some of our less privileged patients in collaboration with Cardiovascular Education Foundation.
This is another landmark event for LASUTH and it is made possible because we are open for partnership, alliances and association with willing partners, and this has helped us over the years.
They have come to LASUTH at the right time because few months ago, we partnered an organisation to set-up a cardiac catheterization laboratory, which happens to be the first and only functional lab of its kind in any public institution in Nigeria.
Since the set-up of the laboratory, we have been doing cases but with this mission the scope of the lab will be put to good use because a lot of procedures are going on in the lab.
They are also working side by side with our experts withing so that skills can be transferred, he said.
Fabamwo commended the foundation for identifying with the hospital and providing medical interventions to patients.
The missioners in their kindness and magnanimity brought with them all the very expensive materials needed for some of the procedures.
The patients are paying virtually next to nothing for the procedures and this is a very commendable gesture he said.
He advised Nigerian to maintain healthy lifestyles to avoid cardiovascular diseases.
Speaking also, Dr Obi Emerole, the President of Cardiovascular Education Foundation said the aim of the partnership was to provide relief for patients who cannot afford the care they need.
Over the next week one week, we will be providing care to a lot of patients and this will include, Geographic Variation, implantation of pacemakers, implantation of cardioverter-defibrillator (ICD) among others.
This is an opportunity for close to 20 patients who will not ordinarily be able to afford the care they need.
It is also an opportunity for skills transfer to some of the Nigeria based cardiologists and at the same time, we will be able to learn from them.
I must commend the effort of LASUTH cardiologists for having done the ground work so that this intervention can commence immediately, the U.S. based consultant cardiologists said.
Emerole said the foundation would continue to partner with the institution towards making LASUTH a premier destination for cardiovascular education training, research and patients care in Sub-sahara Africa. (NAN) (www.nannews.ng)
=======
Edited by Vivian Ihechu
Source: NAN News