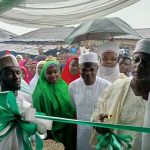 By Salisu Sani-Idris
A former member of the House of Representatives, Alhaji Ahmed Wadada, has called on the indigenes and residents of Keffi Local Government in Nasarawa State to contribute towards improving the economic development of the area.
Wadada, who holds the traditional title of Sarkin Yakin Keffi, made the call at the commissioning of Keffi Emirate Council Investment Committees Groundnut Milling Machine, on Sunday in Keffi.
The News Agency of Nigeria (NAN) reports that the event also featured the inauguration of Keffi Emirate Council Investment Committees Cooperative Groups.
The former lawmaker said that it was the responsibility of every resident of Keffi to strive to give back to the society in order to enhance the living condition of the less privileged and vulnerable groups in the area.
I will want to leverage on this medium to call on each and every indigene and residents of Keffi Local Government Area to look much more inwards to see what he or she is in a position to do to better the livelihood of people of the area.
Because a people without economic strength or advantage are inactive people. Of course, Keffi even before now had not been a left back community in every facet of human endeavour.
But this is to rejuvenate the old spirit of Keffi and I pray Allah continue to guide, bless and protect all our efforts, he said.
Wadada, who is the Senatorial Candidate of Social Democratic Party (SDP) for Nasarawa West Senatorial District, described the inauguration of the Groundnut Milling Machine as an occasion of fulfilment, joy, gratitude, pride and challenge.
For Keffi Emirate Council Investment Committee to achieve this under its Sub-Committee on Women Empowerment is quite fulfilling, encouraging, gratifying and challenging.
Challenging so that we all do more than what we have just done so that the mileage will be longer or higher than what it is now, Wadada said.
Earlier, Mrs Ramatu Sani, the Chairperson, Sub-Committee on Weaving and Groundnut Oil Processing, said the inauguration of the Groundnut Milling Machine was a result of communal efforts by the sons and daughters of Keffi.
Sani revealed that the subcommittee spent over N3.5 million to procure the groundnut oil extracting machine, adding that the committee intended to provide additional two machines for two different locations on Keffi.
She also discloed that so far the subcommittee had trained over 90 indigent women on different skills aimed at empowering them to be self-reliant in the society.
The Emir of Keffi, Dr Shehu Muhammadu Chindo Yamusa III, constituted the committee to see to the revival of the old lost trade and economic activities of this town and to the glory of God, all of us the indigenes of Keffi contributed money to put this together.
We plan to reach out to more people to sell this product and I am sure it will go a long way in eradicating poverty among women who are the target beneficiaries.
We feel strongly that if women are empowered, the society will be better for it and they will be able to look after their children and even help their husbands. (NAN)(www.nannews.ng)
Edited by Grace Yussuf
Source: NAN News