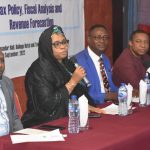 By Tosin Kolade
A Development Training Institute, Coinmac International, on Monday advised the Nigerian Government to adopt Geographic Information System (GIS) to improve tax collection in the country.
Coinmac Managing Director, Mr Ayo Salam spoke at the opening of a training workshop on Tax Policy, Fiscal Analysis and Revenue Forecasting for FCT Internal Revenue Service (FCT-IRS) in Abuja.
Salam said there was the need for all business owners, informal sectors, service providers and organisations to be forced to pay tax, saying an effective tax administration is knowing who the taxpayers are, where they are located.
He said that every citizen must be subjected to the law to pay tax from their income.
According to him, there is the need for all tiers of government to diversify its revenue base by seeking alternative means of revenue generation as the dwindling oil revenue is worrisome.
Government needs to practically shift attention from oil to development of other revenue sources, especially non-oil exports to support Internally Generated Revenue from taxes.
The reliability of the institutional framework for tax processing and enforcement must not be questionable to ensure sustainable development through taxation.
GIS can provide an efficient and improved system to not only increase revenue collection, but to monitor the prices and identify defaulters.
Salam said that most revenue service organisations had adopted GIS in implementation of their duties, adding that an efficient GIS could store accurate information on tax payable and monitored virtually.
He said FCT was a reference point for tax administration in Nigeria as tax collection stood at N188 billion, surpassing projected revenue target of N109 billion in 2021.
He said implementing blockchain technology for tax compliance would be an opportunity for taxes to be collected on goods and services consumed on different electronic platforms.
Training Facilitator, Mr Muhammad Sabiu, said the FCT-IRS had made huge strides in tax system with enrollment of more than 1.2 million people into its revenue collection system.
He said that had led to the collection of the highest revenue since inception, saying there was a Withholding Tax of N26 billion in 2021.
Sabiu said Nigerias continued reliance on oil was not sustainable as the global market dwindled, calling for more Nigerians to pay taxes for economic growth and development.
Nigerians keep complaining about poor infrastructural development and others, we can do more by funding all we want ourselves when we pay taxes.
Nigerians should pay taxes if they do not want government to borrow, in the UK, you pay 40 per cent on inheritance tax, and so many other things.
Lecturers are calling for more funding for the institutions, if we have a good tax system, all these things can be sorted out. (NAN) (www.nannews.ng)
Edited by Ese E. Eniola Williams
Source: NAN News