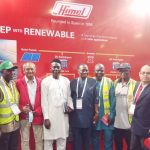 By Angela Atabo
Himel, a global manufacturer and provider of electrical products for low voltage power distribution, says is it working on safer electricity access for Nigerians through its solar energy initiative.
MrBalaji Lenka, the Vice-President, Sales for the Middle East, Africa, and Central Eastern Europe, Himel, said this in a statement at the end of the Nigeria Energy Conference and Exhibition in Abuja.
Lenka said thelocal energy sector has the capacity to meet the current domestic demand and create valuable manufacturing jobs and opportunities for a sustainable future.
He said by working with local and international partners to share knowledge and fuel innovation in the ever changing energy landscape, Nigeria has major potential for power generation.
According to Lenka, the manufacturing company is therefore, working to bring focus on safer electrical access to Nigeria through its recently launched solar-ready offer at the just concluded conference and exhibition.
The solar-ready initiative offer is relevant to Nigeria and countries worldwide as the world is gearing up towards increasingenergy efficiency as a possible means of sustainable development.
Delivering on its promise of high quality, affordability, and reliability, Himels new solar-ready offer is designed to easily integrate solar energy into any power source.
The portfolio features a range of switchgear, from air circuit breakers to molded-case circuit breakers, miniature circuit breakers and fuses.
All these are with current and voltage ratings specifically developed for all solar applications centralised, string type and residential.
Lenka said the company plans to ramp up its accessibility to provide the complete power distribution, power management and industrial automation products assortment that would ensure safety and reliability.
To achieve this, we are working on supporting partners to scale up and empowering retailers to offer a wider range.
Himel showcased its latest range of products in low voltage distribution, final distribution, power factor correction, motor management, metering, voltage stabilizers, control components, and home electric offers, he said.
The News Agency of Nigeria (NAN) reports that the conference which was the 9thedition, provided an unrivaled platform for both public and private sectors.
NAN also reports that the conference was endorsed by the Ministry of Power Nigeria to explore critical issues, key developments, investment opportunities, and rising trends shaping the new energy ecosystem.
Himel was among a hub of suppliers and manufacturers contributing to the universal access for affordable, reliable, sustainable, and modern energy services for all in Africa.(NAN)(nannews.ng)
Edited by Celine-Damilola Oyewole/Ali baba-Inuwa
Source: NAN News