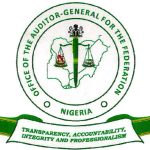 By Muhyideen Jimoh
The Director of Audit, overseeing Office of the Auditor-General for the Federation (OAuGF), Mr Andrew Onwudili has called for more focus on risk based auditing in public and private sectors.
Onwudili said this on Wednesday in Abuja at a book launch titled: Risk Based Approach to Financial Auditing written by Mr Wasiu Akindele, a Director in the OAuGF
The director, who was represented by Mr Benjamin Angbo, Director of Audit, Inspectorate, OAuGF emphasised the importance of auditing to efficient service delivery.
This book is very educative and timely as it will help young officers and auditors on risk based approach to financial auditing in our public and private sectors.
Its an auditors kit that every auditor should have as it will serve as a proper guide to writing your professional reports, he said.
Earlier, Mr Wasiu Akindele, author of the book told the News Agency of Nigeria (NAN) that the book is a product of over 30 years experience as an auditor in professional and civil service career.
He said the book, which focuses on a new area of auditing, would ultimately ensure more professional auditors and efficient service delivery in public and private sectors.
The book will be very useful in the sense that it dwells on the meticulous examination of financial statements and in the process of examining it you are likely to come across some misstatements and how to mitigate them.
So the benefit to the nation is that auditors will be well armed before carrying out their assignment and this will ultimately lead to better accountability and transparency in public and private organisations.
Akindele therefore stressed the need for professional auditors and exploring new ways of ensuring value for money in government financial activities for the benefit of the nation.
NAN reports that the 67-page book with 14 chapters analysed topics such as types of audit risks, audit process for a risk based approach among others.(NAN)(www.nannews.ng)
Edited by Grace Yussuf
Source: NAN News