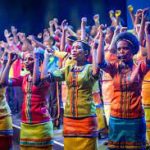 By Ruth Oketunde
The Ikeja African Chorale, a socio-religious group, has called on the youth in the country to leverage the opportunity provided by the group to discover talents.
The Founder of the group, Dr Edward Olutoke, said in a statement that the group had launched a talent-hunt TV station, where singers could get empowered and would be helped to grow.
He said that the group had also set up rewarding and useful platforms for the discovery, rewarding and promotion of young talents in Nigeria and Africa at large.
According to him, part of the platforms is a voice audition for young talents coming up on Oct. 5 at Ikeja Hall, 3B, Alayode Close, Off Agbaoku Street, Opebi, Ikeja, Lagos.
He said that the voice audition, entitled: The Healing Voices would take in new members into the choral group and provide a facelift to a lot of youths who had been yearning for mentoring and assistance in their classical singing aspirations.
Olutoke explained that groups new television station CHOIRS TV would help to promote the culture of group singing and Classical music which is full of deep lyrics and meanings,
He also announced that the group would reward anyone that could contribute to its ideals.
Send any exclusive choir performances, not less than five minutes; that has never been uploaded on YouTube platform to [email protected] and receive N10,000 instantly.
Very soon, choirs will be making millions of naira with their talents on weekly basis; its another way of fighting poverty to a standstill in Africa.
Its an assignment, we encourage all well-meaning people in the world to join us in empowering our young people, Olutoke said.(NAN)(www.nannews.ng)
======
Edited by Kayode Olaitan
Source: NAN News