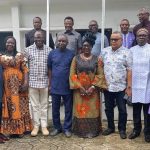 By George Odok
A group, Biase Unity Forum, has commended the Vice Chancellor of the University of Calabar, Prof. Florence Obi, for appointing Mr Joseph Odum as the new Bursar of the institution.
Chairman of the Forum, Mr Uno Ogban, who led members of the forum on a courtesy call on the VC in Calabar, said that the choice of Odum was worthy and timely.
The group expressed confidence that the appointment of Odum as the financial officer of the institution would boost the transparency and accountability of the university.
Dear VC, we are here to thank you and the entire management of UNICAL for appointing our illustrious son as the new Bursar of the University of Calabar.
We appreciate the gesture and we wish to state that he wont disappoint the management of UNICAL because he is a seasoned accountant with good conduct and character.
The appointment of Odum will no doubt boost the administrations performance given the new Bursars antecedents and pedigree, the Chairman said.
He commended the VC for her infrastructural development in the institution, adding that within a period of two years, she has attracted massive structures to the institution.
Responding, Prof. Obi thanked the Forum for the visit, urging them to always pray to God to grant the new Bursar the wisdom to discharge his duties creditably.
Highpoint of the visit was the presentation of an award of Excellent Leadership Qualities by the Forum to the Vice Chancellor for her outstanding achievement in the growth of the institution.
The News Agency of Nigeria (NAN) reports that Odum, who was appointed on Sept. 19, is an accountant by profession and also the Chairman of Association of National Accountants of Nigeria, Cross River branch.
He is also a member of the Financial Reporting Council of Nigeria, with three publications on national journals to his credit among others. (NAN)
Edited by Ismail Abdulaziz
Source: NAN News