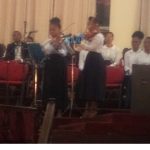 By Bridget Ikyado
Mr Akin Adesina, a Deputy Director in the Ministry of Interior, says gospel music can help combat crimes among youths and enhance national development.
Adesina, who was guest during the Apostolic Faith Church 2022 Regional Youth Concert, said gospel music also nourished the soul and enhanced spirituality.
The concert with the theme, The Anchor Holds, was held in Abuja on Sunday night.
He added that it was also an opportunity for the youth to learn new skills related to music and be able to earn decent living.
Acquiring such skills can never leave you jobless or idle, Adesina added.
Mr Idowu Noah, District Head, Youth Development Directorate, who represented the Regional Youth Head, said the main aim of the concert was to encourage the youth to be focused in life.
We want to let the world know that God still answers prayers through praise.
No mater the challenges the youth face, God can still turn them around, he added.
Also, Bomanam Isaiah, Youth Minister and Regional Head, Care and Empowerment CFC, said the concert would improve youths spiritual life and eliminate negative vices in the society.
God inhibits in our praises; it draws us closer to Him, she said.
She decried the rate at which secular music drew youths away from praising God, saying the concert was to address that.
The official advised youths not to see singing as stressful, but an opportunity to supplicate to God, adding that praise would lead us to Christ.
Mr Mayowa Ayoade, the Regional Youth Leader of the Church, said the annual event was to channel the energy of the youth away from restiveness and open new door of employment to them.
The concert reminds us of our call to serve God and humanity, he added.(NAN)(www.nannews.ng)
Edited by Idris Abdulrahman
Source: NAN News