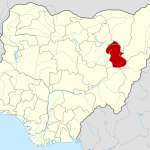 By Peter Uwumarogie
The Gombe State government on Tuesday inaugurated a Revenue Recovery Tribunal to curb tax evasion and boost revenue generation in the state.
Gov. Inuwa Yahaya while inaugurating the tribunal, in Gombe, said the move was aimed at strengthening the revenue system to ensure provision of social amenities to citizens for the overall development of the state.
He said the establishment of the tribunal would serve as catalyst to boost its revenue base and provide the needed resources to fast track social and economic development of the state.
According to him, the tribunal is a necessary body charged with the mandate to enhance speedy adjudication of revenue matters such as levies, taxes, charges, penalties and fines due to the state and local government areas.
The governor expressed optimism that the tribunal would assist in addressing sharp practices hindering effective revenue administration such as tax evasion and erring revenue collectors.
One issue of great concern is the disturbing corrupt attitudes and habits of revenue collectors, a lot of revenue is being lost as a result of nonchalant attitude and corrupt tendencies of tax collectors.
It is my believe that the tribunal will take necessary steps to address these issues and support the states Internal Revenue Service in its bid to generate more revenue for the development of the state, he said.
The tribunal, he said, would facilitate ease of doing business by guaranteeing fairness and transparency of the tax system as well as enhance tax payers confidence.
It will help curtail delays and bottlenecks in adjudication of tax matters in conventional courts, he said.
The governor urged tax payers and tax paying entities to ensure prompt payment of taxes to enable the government to deliver dividends of democracy to the people.
Earlier, Chairman of the Tribunal, Mr Muhammad Jungudo said part of the mandate of the tribunal was to settle disputes arising from the operations of this State Revenue !aw and any other related regulations.
The Tribunal shall also have power to hear and determine matters arising from tax/revenue default and matters relating to revenue, taxes, charges, levies, fees, fine due to the state or local government as contained in the law.
It has both civil and criminal jurisdictions. Apart from dealing with civil monetary claims of parties, it can impose payment of fines and imprisonment term to deserving parties where necessary, he said.
Also speaking, Alhaji Abubakar Tata, Chairman, Gombe State Internal Revenue Service said the tribunal would addressing nagging problems affecting its operations.
He noted revenue generation was key to Gov Yahaya-led administration efforts to deliver good governance to the people of the state.(NAN)(www.nannews.ng)
Edited by Rabiu Sani-Ali
Source: NAN News