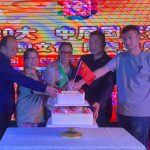 By Taiye Olayemi
As Nigeria and China celebrate independence and national day anniversary, the Chioma Ajunwa Foundation has given recognition award to the Chinese community in Nigeria
Founder of the foundation, Chioma Ajunwa, in a statement on Wednesday said the Chinese community in Nigeriahad contributed significantly tofostering the bilateral relationship between the two countries.
According to Ajunwa, the award was part of activities of the 2022 Mid-Autumn Festival/China National Day and Nigeria Independence Day celebration, held on Monday in Lagos.
Ajunwa said, This recognition award is designed to stimulate the humanitarian efforts of Chinese community in Nigeria. Over the years, the Chinese community has constantly supported Nigerians in every area of life.
I urge the Chinese community to continue with the good work they have started in making the society a better place.
Dr Eric Ni, Chairman, Chinese Industrial and Commercial Enterprises Association, said that the Chinese community regularly supported the needy.
We have supported different orphanage homes, schools and also assisted several low income earners in the society.
Recently, we supported 50 families each with N100,000 cash and gift items like KVA generators and food items, while we awarded scholarships to 63 students.
We believe in appreciating the communitiy and strengthening the good relationship between the Peoples Republic of China and the Federal Republic of Nigeria.
All these were possible with the support of over 90 Chinese businesses in Nigeria. Today, this award is to thank all Chinese business owners and all other Chinese individuals, who have helped in making this a reality, he said.
China and Nigeria are considered as closest allies and partners, the relationship has expanded on growing bilateral trade and strategic cooperation, both nations celebrate their National and Independence Day on Oct. 1st. (NAN) (nannews.ng)
Edited by Folasade Adeniran
Source: NAN News