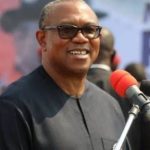 By Ruth Oketunde
Coalition of Federal Capital Territory (FCT) Support Groups for Peter Obi, presidential candidate of Labour Party, urged Nigerian teachers to be agents of social change while performing their duties.
Dr Moses Paul, Coordinator of the Coalition, made the call at the Partys Teachers Conference organised to commemorate this years World Teachers Day on Wednesday in Abuja.
The News Agency of Nigeria (NAN) reports that the event has the theme Get involved for Good Governance and Accountability in Nigeria: The Role of Teachers.
Paul said that teachers were critical in the democratic process in the country, as their role in electoral processes could not be over-emphasised.
Education plays a fundamental role in development of the society, when the polity is properly educated, a new future is born.
Teachers are educators who shape future society by their work. They are social agents of change, as no revolution in the society can be complete without involving the teachers, he said.
Paul added that teachers should get involved in good governance by rejecting vote selling and buying in the upcoming elections.
Vote-buying has become a disturbing feature in Nigerias democratic process, as buying and selling of votes has heightened the monetisation of the electoral process whereby the highest bidder gets the highest votes.
When you buy votes, you corrupt the electoral process and the wrong candidates become the winner.
As an electorate, do not expect democratic dividends from leaders who emerge through corrupt practices, he said.
On his part, Dr Peter Piper, the keynote speaker at the event, called for an overhaul in the education system in the country.
Mrs Ifeoma Okechukwu, Coordinator, Teachers for Obi/Datti, said the teachers would continue to engage in voter education, grassroots mobilisation and sensitisation.
She added that teachers would continue play major role in the education sector and for a better Nigeria.(NAN) (www.nannews.ng)
Edited by Ifeyinwa Okonkwo/Kayode Olaitan
Source: NAN News