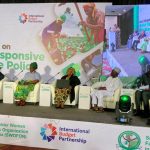 By Tosin Kolade
Mrs Mary Afan, National President, Smallholder Women Farmers Organisation in Nigeria (SWOFON), has called for inclusion of its members in budgeting processes and implementation towards contributing to food production.
They made the call at the Public Dialogue on Gender- Responsive Agriculture Policy, an event organised in partnership with the International Budget Partnership in Abuja on Thursday.
According to her, 75 per cent of farmers in Nigeria are women, with most of them still using obsolete equipment and their needs not included in the national agriculture budget.
Afan said the number of those who depended on Nigerian farmers for food had increased, saying the need to mechanise the farms had become imperative.
She explained that the socio-economic effects of insecurity and flooding across the country had led to a reduction in crop yield and income for women farmers.
Nigeria is signatory to the Maputo Declaration, and the Maputo Declaration says 10 per cent of every countrys budget should go the agriculture sector, to achieve a six per cent annual growth.
Over the years, the budget allocation is so slow, today; we are interacting with critical stakeholders to increase and support smallholder women farmers who do almost about 80 per cent of the workforce in the farm.
We are also calling on stakeholders, policymakers, and the Nigerian government to come up with a national agenda on agriculture so that all our challenges will be met.
Mr Austin Ndiokwelu, Country Manager, International Budget Partnership (IBP), said agriculture was responsible for roughly a quarter of the gross domestic product, the second-highest contributor in the country.
He said although Nigerian government had reaffirmed its commitment to allocate 10 per cent of its annual budget to agriculture, it had not allocated more than 2.2 per cent in recent years.
Women smallholder farmers especially are overlooked by officials overseeing agricultural policy and decision-making.
This is surprising when they make up 70 per cent of the workforce and produce 60 per cent of the food Nigerians consume.
In just two and a half years SWOFON, with the support of IBP, secured three critical budgetary changes to strengthen their livelihoods and contributions to the countrys agricultural sector.
Ndiokwelu said as a result of data-driven advocacy, Nigeria increased its spending on agriculture by 18.5 per cent and made new federal budget allocations towards the sector.
He added that through the partnership with SWOFON, issues of underdevelopment in agriculture, equitable access to farm inputs were resolved and had encouraged rural economic development and increased food production.
Mr Eze Onyekpere, Executive Director, Centre for Social Justice, said small-scale women farmers constituted 60 per cent of the farming population and produce 70 per cent of food consumed nationally.
He said there was need for an improved budgetary investment for smallholder women farmers, saying this would aid agriculture value chain.
All plans and policies are based on budget and there are several plans and policies which have shown the need for investment for small-scale medium farmers.
He said it was critical that funds appropriated for smallholder women farmers got to them directly and not diverted into wrong hands. (NAN) www.nannews.ng
Edited by Abiemwense Moru/Sadiya Hamza
Source: NAN News