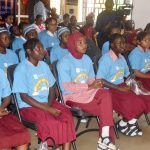 By Justina Auta
The AIDS Healthcare Foundation (AHF) has urged government and stakeholders on implementation of Comprehensive Sexuality Education (CSE) in schools to ensure the rights and future of the girl-child is protected.
Dr Echey Ijezie, the Country Programme Director, AHF Nigeria, made the call in Abuja in commemoration of the 2022 International Day of the Girl-Child (IDGC).
The News Agency of Nigeria (NAN) reports that IDGC is commemorated annually on Oct. 11, to celebrate the importance, power and potentials of adolescent girls around the world, as set aside by United Nations.
The event which was hosted by AHF has its theme: Our Rights, Our Future, which intends to educate and empower girls to succeed by taking control of their health, promoting girls rights and bringing awareness to the challenges they face.
Ijezie said access to age appropriate Comprehensive Sexuality Education would promote positive attitudes towards sexual and reproductive health among children.
The reality is that girls from the ages of eight, nine, through 10, 14 to 15, may engage in risky behaviour.
AHF and our strategic partners, the agencies and ministries and schools must help educate everyone including girls on the need for a safe space to understand CSE, their rights and future.
The need to avoid risky behaviour among girls which can lead to unwanted pregnancies, HIV infection is key, that is why access to appropriate CSE is very important
Hence the information you give to an eight-year-old is important, but different from the information given to 14 years to 18 years to make sure they protect their rights and future.
He listed some of the topics of CSE, also known as Family Life and HIV/AIDS education in Nigeria, to include setting boundaries, self-esteem, decision making and consequences, menstrual hygiene, sexual and reproductive health, puberty, among others.
The country programme director however urged government and all stakeholders on concerted efforts in educating the public and ensuring the girl-child make right choices, become assertive and able to report issues.
Mr Nsu Rabo, the Deputy Director, Universal Basic Education Board (UBEB), said the IDGC was a significant day for every girl-child, stating that teachers play significant role in nurturing and wellbeing of a child.
Teachers are supposed to be mothers in the children upbringing, so my advice to teachers is to see the students as brothers, sisters and children, because they are representing their parents.
Speaking on appropriate measures mated on teachers who display unruly behaviour towards students, Rabo said the teaching profession was guided by code of ethics.
According to him, once there is a report of misbehaviour against any teacher, the school authority must report to ensure appropriate disciplinary measures are taken.
This starts with investigation and if established a query is given and could also lead to suspension or outright dismissal, he said.
Mrs Francisca Osibe of Federal Ministry of Health, appreciated the foundation for organising the event and its partnership with the ministry in ensuring that the girl-child is knowledgeable about their sexuality and personal health.
The Ministry hopes to sensitise the girls, provide free medical test and sanitary pads and educate them on reproductive health, how to take care for themselves and to avoid harmful practices.
Speaking, Mrs Bose Enuiyin, the Counselor, Abuja School for the Deaf, also appreciated the organisers for organising the event for girls and all stakeholders including parents of children with hearing impairment.
This will help some of the parents with children that dont have the knowledge of children and sexuality education especially for the deaf kids, many parents do not know how to go about it.
The counselor further appealed to the foundation and other stakeholders to visit schools especially during the Parents Teachers Association (PTA) programme to educate parents on sex education.
Ms Rapture Yakubu, a 15-year-old student of Light Way Academy, Abuja, expressed her appreciation on the event, adding that she learnt a lot about her rights and CSE.
I learnt all I need to know about how to take care of myself especially when am menstruating, how to talk to people, speak out and be confident, she said.
Yakubu appealed to parents to create time for the children and be interested in their wellbeing, adding that such act will encourage the children to always be open with their parents.
NAN reports that representatives from Ministries of Education, Health and Women Affairs, FCT Universal Basic Education Board (SUBEB), School Based Management Committees (SBMCs), female students, among others, were present at the occasion.
The highlight of the event included distribution of free sanitary pads, dance presentations from various government and private school students within the FCT and its environs. (NAN)
(www.nannews.ng)
Edited by Muhammad Suleiman Tola
Source: NAN News