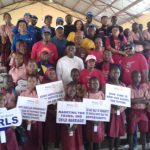 By Cecilia Ijuo
Empowering Girls Initiative Committee in collaboration with Rotary Clubs in Abuja and Non-Governmental Organisations (NGOs) on Wednesday sponsored 40 out-of-school children back to school.
The NGOs are Development Initiative for Youth Excellence, Progress and Stability and LexF H Humanity.
The News Agency of Nigeria (NAN) reports that the clubs and NGOs also donated items to the students.
One hundred and twenty girls were given four pads each, 180 boys were given socks and beverages.
The students were also taught how to make beverages, lip gloss, cake and soap among other items.
Dr Goddy Nnadi, the Governor of Rotary District 9125, who led the clubs and NGOs on a visit to the Abuja School for the Deaf in Kuje, said it was part of activities to commemorate the International Day of the Girl-Child.
He said the sum of N200, 000 was also donated to the school to enable students, who were sent from school over non-payment of Parent Teacher Association (PTA) levy of N5,000 each to return to school.
Nnadi, who declared the event open, said the effort was informed by the need to ensure that no child, particularly those with special needs stayed away from school.
Nnadi said besides sponsorship, the club in collaboration with other stakeholders would be organising a medical outreach in the school.
According to him, the outreach will help ascertain the impairment level of the children and what can be done to restore the hearing ability of those with less serious cases.
He appealed to well meaning Nigerians and corporate organisations to come to the aid of the school.
He said, rotarians are people of impact and we show it by what we do.
This initiative started in 2021 and this year we decided to create awareness for the girl-child.
The International Day for the Girl is marked every year to identify issues around the girl-child, what we owe them and the challenges they face.
The day is also marked to identify some challenges that the girl-child tries to hide or pretend about and what we are doing here today will help bring some of those issues to the fore.
The governor said there was the need for constant awareness creation on education and empowerment of the girl-child, saying they were critical component of the society.
He also said that the girl-child often fell victim of drug abuse, trafficking and other vices and should be properly educated.
The Rotary International District 9125 Chairperson of the Empowering Girls Initiative, Mrs Lovina Okorn-Ntui, said the rotary clubs decided to visit the school of the deaf to enable the students have a feel of the day.
She said We decided to come to the school for the deaf because we thought of diversity, equity and inclusion.
We have been impacting on the lives of girls without special needs, so this time, we decided to celebrate with girls with hearing impairment and other special needs.
These children need all the support because their case is pathetic.
The chairperson further said, as I speak with you, we have children who were dumped here by their parents because of their condition.
In fact, there is a little girl that we empowered today whose mother has stroke and they live in an uncompleted building.
We learnt that the father dumped her here and went away.
Ntui called on government and well meaning Nigerians to come to the aid of children with disabilities around the country.
She said there was the need for all hands to be deck to assist the children, adding government alone cannot do it.
She further called on individuals and organisations to visit the school often to reassure them that Nigerians love them in spite of their condition.
Mr Abdulrazaq Surajo, the Principal, Abuja School for the Deaf, Kuje, expressed appreciation for the support the school received from the rotary clubs and NGOs.
We are grateful because of the visit.
These children need all the support so as not to feel like second class citizens.
These are healthy children with virtually all the abilities that can enable them contribute their quota to the growth of the nation if properly catered for, he said.
Surah called for support, particularly in the area of ICT, infrastructure and other needs of the students.
NAN reports that highpoint of the event was donation of school bags, uniforms, and books among other items to the students.
The event was also marked with lectures on self-esteem, drug abuse and menstrual health and hygiene.
The lectures also focused on sex education, and Information Communication Technology (ICT) among others.
The Abuja School for the Deaf has a population of not less than 600 students and it operates as a day and boarding school.
Meanwhile, the International Day for the Girl is marked every Oct. 11 to draw worlds attention to concerns of the girl-child and the 2022 theme is Our time is nowour rights, our future.(NAN) (www.nannews.ng)
Edited by Ese E. Eniola Williams
Source: NAN News