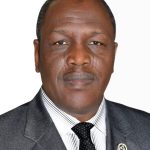 By Sumaila Ogbaje
The Director General, Nigerian Army Resource Centre (NARC), retired Maj.-Gen. Garba Wahab, says countering terrorism and violent extremism is everybodys responsibility.
Wahab said this at the closing of the Second Strategic Counterterrorism and Counterinsurgency (CTCOIN) Seminar organised by NARC in collaboration with Office of the National Security Adviser (ONSA), on Wednesday in Abuja.
The two-day seminar has the theme, Conducting counterterrorism/counterinsurgency: Utilising a Whole of Society Approach.
He said the seminar brought together relevant stakeholders from the military, security and intelligence agencies as well as the civil society.
Garba added that it was to elicit discussions and recommendations that would shape counterterrorism and counter-insurgency operations in the country.
According to him, the aim is to build the security architecture that will serve the interest of Nigeria.
It is going to take a long time before we see the effect of this module and we are going to ensure that the report of this seminar is well circulated.
And I will follow up, ask questions from those who received the report; we are going to do that and we will get people to start working on those things, he said.
Wahab commended the participants for their commitment throughout the duration of the seminar as well as their contributions and recommendations.
Prof. Christopher Ogbogbo, Director of Research, NARC, who presented the recommendations, said the whole-of-government and whole-of-society approach was required in taming insecurity.
Ogbogbo said the seminar assessed and then emphasised the place of the whole of society approach in combating terrorism and insurgency in Nigeria.
Clearly, we have been able to brainstorm on that and we have concluded and resolved that there is need to intensify and deepen that whole of society approach as conceptualised in the course of the seminar.
All hands need to be on deck, it is not just that of security agencies only, but also civil society groups and all relevant stakeholders must come together to be able to combat and resolve this insecurity that threatened the country, he said.
Ogbogbo said the civil society and other stakeholders should play active role in the activities of Operation Safe Corridor.
According to him, the military will be taking repentant insurgents who are surrendering and still be taking care of them and deradicalising them.
The civil society should come in and play its own role, and that type of role should be mainly by the civil society, not the military, he said. (NAN) (www.nannews.ng)
Edited by Maharazu Ahmed
Source: NAN News