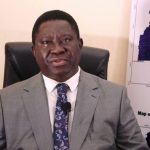 By Felicia Imohimi
Prof. Victor Chude, Registrar, Nigeria Institute of Soil Science (NISS), has emerged the President-elect of the International Union of Soil Sciences (IUSS) from 2023 to 2026.
Chude is the first President of the union from an African country elected into the coveted position in the IUSS since its establishment 98 years ago.
IUSS is the global union of soil scientists that promotes all branches of soil science and supports all soil scientists across the world in the pursuit of their activities.
The union said this in a statement made available to the News Agency of Nigeria (NAN) by Chude, on Thursday in Abuja.
According to him, he was elected by the governing council of IUSS at the World Soil Science Congress in Glasgow, United Kingdom held in August.
The president, according to the statement, provides leadership, focus and direction both within and outside of the IUSS.
Within the union, the president, working together with the other Presidential Committees and in consultation with the Executive Committee and Council, is expected to develop and implement strategic directions and actions to take IUSS forward.
It is to ensure that IUSS is recognised as the pre-eminent international body in the field of soil science.
Externally, the president represents the union in international fora, such as the International Science Council.
He acts as its spokesperson when dealing with the media, national members of the IUSS, sister organisations, UN entities and government departments as required,
Chude, who hails from Onitsha, in Anambra, holds a Doctoral and Master of Science degrees in Soil Science from the University of Ibadan, and a B. Science in Plant/Soil Science from the University of Nigeria, Nsukka.
He is a scholar of repute with profound leadership experiences that traverse the academia, politics, and professional consulting at national and international levels.
Chudes professional interests are Soil fertility and Plant nutrition with a strong affinity for Integrated Soil Fertility Management of tropical soils.
He had represented the Soil Science Society of Nigeria in the unions council for 15 years.
The Nigeria Institute of Soil Science (NISS) won the 2021 King Bhumibol Word Soil Day Award (WSDA) under the stewardship of Chude.
Chude had served as a Senior Research Fellow in Cocoa Research Institute of Nigeria and was a Professor at Ahmadu Bello University, Zaria. (NAN)(www.nannews.ng)
==============
Edited by Bashir Rabe Mani
Source: NAN News