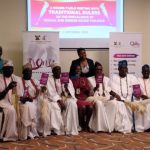 By Florence Onuegbu
The Lagos State Government has urged traditional rulers to use their influence and closeness to the people in their communities to curb sexual, gender and domestic violence.
Mrs Titilola Viviour-Adeniyi, the Executive Secretary, Lagos State Domestic and Sexual Violence Agency (DSVA) gave the advice on Thursday, in Lagos.
She spoke during a One-Day Roundtable With Traditional Rulers On The Prevalence Of Sexual And Gender-Based Violence (SGBV).
Viviour-Adeniyi urged the traditional rulers to use the proactive measures and practices adopted by the state government to ensure that SGBV, if not completely eradicated, was brought to the barest minimum in the state.
She said that the engagement was deliberate due to the prevalence of SGBV in the society, which required a timely intervention.
In the context of preventing and ending Sexual and Gender-Based Violence, traditional rulers are one of the strategic groups that must be considered, because our Royal Majesties, the custodians of our culture, have access to different segments of the population, including those who are marginalised and harder to reach.
In many regions of the world, traditional rulers, by virtue of their long-standing presence and service in diverse communities, have come to command the trust and respect of local population.
We understand that in certain instances, traditional rulers sometimes serve as the first port of call immediately after a case of domestic or sexual violence occurs.
Certain times, such cases end up being resolved at the palaces, without adhering to the state governments referral pathway, she said.
According to her, this non adherence to government referral pathway, therefore, promotes the culture of impunity as perpetrators are not held legally accountable for their actions, even as survivors are not able to access holistic support.
It is, therefore, of utmost importance that traditional rulers are promptly and regularly engaged on these issues, their role in preventing and responding to incidents reported and most importantly, the need to have interface with government, she said.
Vivour-Adeniyi said that in the past one year, the agency recorded a total of 4,860 cases via the Virtual Referral and Response Service (VRRS), and physical report.
She said that those cases include domestic violence, rape, lack of parental care, threat to life, sexual assault by penetration, emotional abuse, child neglect/abandonment, among others.
The executive secretary said that breakdown of cases showed that there were 2,710 adult and 2,150 children, showing that within emergency settings, SGBV on women and young girls was critically heightened.
In her presentation, Mrs Omolola Rotimi, the Administrator-General, Public Trustee, Lagos State Ministry of Justice, said that in order to protect people from people, on the issue of SGBV, the law had to be in place.
Rotimi said that people must learn to speak out against SGBV, as it would help to reduce the occurrence of the cases.
Mr Emmanuel Oladele, President, Institute of Marriage Administrators and Counsellors of Nigeria, said that all hands must be on deck, both the rulers and the ruled, at mitigating the incessant occurrence of SGBV in the communities.
Oladele called on traditional rulers not to hesitate to apply the full weight of the customs and traditions against the perpetrators of SGBV, as long as such was not repugnant to natural justice, equity and good conscience.
Oba Asumo Abdul-Ganiyu Aderibigbe, paramount ruler of Odo-Ayandelu Kingdom, Ikosi-Ejinrin, Epe, commended the state government for its efforts at curving SGBV.
Aderibigbe urged the police to always respond appropriately, whenever issues of SGBV were reported.
We are glad to have this kind of training today, it imparts more knowledge on us, so that we can go back to our various communities and educate the people the more.
There are some cases we can treat in the palace and there are some that are criminal. We dont have to harbour or indulge people that involve in violence or criminal activities. We have to expose them, he said. (NAN)(www.nannews.ng)
==========
Edited by Oluwole Sogunle
Source: NAN News