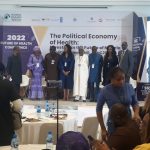 This is because, it is only when one is well and healthy that he/she will begin to think of any economic, political or social activity.
However, this has not been the case as ethnicity, religion and other issues have remained on the front burner, forgettingthe popular
saying that a healthy nation is a wealthy nation.
This maxim makes it imperative for political office aspirants to articulate a comprehensive health financing mechanism to achieve Universal
Health Coverage (UHC), where all individuals and communities receive health services they need without suffering financial hardship.
And to achieve UHC and more, Nigeria Health Watch organised a conference on the Future of Health in Nigeria to remind politicians vying
for offices in the 2023 general elections to take note, key in and make provisions toward ensuring good health for all Nigerians.
At one of the events which took place in Abuja, the Managing Director of Nigeria Health Watch, Mrs Vivianne Ihekweazu, said in a few
months, Nigerians will be going to the polls to decide on the new leadership that will drive all sectors of the economy for the next four years.
In spite of the health sector being a critical driver of the economy across the globe, it has not received optimum attention across different leaderships.
Achieving UHC requires strong political will at different levels of governance, including the national and sub-national level.
Ihekweazu said at the media and Civil Society Organisations (CSOs) roundtable organised by Nigeria Health Watch in collaboration with Centre for Universal Health that as
political parties begin their campaigns, it is important that CSOs and the media engage their candidates as well as citizens.
For the candidates, this engagement will put into perspective, the challenges in the health sector and the required policy interventions that will
change the narrative.
According to her, the media as agenda setters should work toward making politicians commit to public health financing a key part of their manifestoes.
Ihekweazusposition was buttressed by Robert Yates, Executive Director, Centre for Universal Health when he said as media, how can you change the political
discourse, you can do it, and it does happen, if the politicians and individuals emerge, they will get it.
This will involve sensational reporting of people dying in the hospitals as they need to be catered for, put your heads together and identify the leaders who are willing.
Dr Grafar Alawode, the Programme Director, DGI Consult, shared and reviewed the work done by the UHC2023 Forum on Citizen-led Health Agenda.
He said that Nigeria had made some progress in terms of fighting child and infant mortality, adding that maternal health care required more health system strengthening of having health care workers and facilities in place.
Alawode, therefore, called for the incorporation of the role of other sectors in health design and implementation.
He also called for leveraging Human Capital Development as springboard for multi-sectoral and coordinated actions that include health, education, nutrition, Water Sanitation and Hygiene (WASH) and livelihood sectors.
Also, Dr Omokhudu Idogho, the Managing Director, Society for Family Health, said it is critical to take UHC to the states level because I see situations where a lot of fundamentals at the federal level are soon coming together, some of the laws are in place and how this work will be determined at the state level.
Ifeyinwa Yusuf, Director of Policy and Advocacy, Nigeria Health Watch, said there is need to do more in exploring other internal local resources to increase and pool public financing for health.
She said a human capital development approach should be employed in communication to the government for increased funds allocation and release for health.
We have to do things differently, by contextualising our interventions and communication to identify influential people/individuals who can bring a change in the health space,
engage with each other more, the media and CSOs.
Meanwhile, Prof. Ben Akabueze, the Director-General, Budget Office of the Federation, says health investment service is a catalyst for economic growth.
Akabueze said this at the 8th Future of Health Conference with the theme The Political Economy of Health: Investing on the Future of Nigeria, organised by Nigeria Health Watch
was germane because it would provide the opportunity to discuss the determinants of health outcomes in various options available for sustainable healthcare financing in Nigeria.
Akabueze, who was represented by Prof. Olumide Ayodele, the Technical Assistant to the director-general, Budget Office of the Federation, said the event also created an avenue to discuss measures for effective healthcare delivery across the country.
Akabueze, who gave keynote address on financing healthcare sustainably in Nigeria, said the importance of improved healthcare services for economic growth and development could not be overemphasised.
According to him, health investment service is a catalyst for economic growth through higher labour force, higher labour productivity, innovations and improved well-being of the population.
He added that it is generally said that health is wealth; a healthy population engenders economic prosperity.
It is, therefore, imperative to ensure significant investment in health, effective delivery of healthcare services and equitable access to healthcare services.
Health is high on Nigerias development agenda; inview of social economic returns of healthcare investment, a key objective of the National Development
Plan 2021- 2025 is to enable a healthy population.
Akabueze, who said there was need for primary healthcare to be funded at the local government level, urged stakeholders to be involved to reduce
mortality rate and enhance workforce.
He urged government, CSOs and business associates to shape and monitor health interventions to ensure the desired impact.
He also commended the consistency of the Nigeria Health Watch for organising health conferences focusing on topical issues.
Also, Prof. Mohammed Sambo, the Executive Secretary, National Health Insurance Authority (NHIA), said it was discovered that the first law establishing
Health Insurance scheme was not able to take Nigerians closer to UHC.
He explained that health insurance everywhere in the world is to ensure that everyone is covered, adding that in Nigeria,
successive administrations have tried to amend the NHIS law for 23 years but not able to get that done.
However, on May 19 this year, the National Health Insurance Scheme (NHIS) Act was repealed and the National Health Insurance Authority Law was enacted.
The implication of the new law is that health insurance will now be for every Nigerian and every resident in Nigeria.
The law has also made provision for the coverage of vulnerable population. Health Insurance is normally not a free healthcare as somebody has to pay.
As someone who is not employed has no means of payment because of his economic status, someone has to pay for him or her.
That is why in this new law, there is Vulnerable Group Fund provision with various innovative financing mechanism employed to ensure that
vulnerable people receive health services.
He, therefore, said that funding should come from innovative financing mechanism to bring money into the healthcare delivery system as no country had been able to achieve UHC without public financing.
On her part, Dr Sarah Alade, the pecial Adviser to the President on Finance and Economy, said discussions on healthcare are ongoing because of its importance, noting, however, that when people are poor, health spending is least because they have to feed first.
At the same time, however, we cannot have sustainable development without health.
Also, Dr Obi Ikechukwu, the Commissioner for Health, Enugu State, who spoke on political leadership in health, said that health system governance must be strengthened for accountability.
Health system governance means strategic frameworks that existed and combined with effective oversight, coalition building, regulation, attention to system design and accountability.
He explained that strong governance in health systems must be guided by competent leaders with clear vision and the ability to motivate and mobilise other health system stakeholders.
He called for political leaders who would ensure a complete state of physical, social and mental wellbeing and not just the absence of disease.
Ikechukwu also said there should be a continuous state of adjustment of physical, social, mental and environmental stimulus.
He added that there should be a commitment to determination of the cost of healthcare which would drive efficient health benefits package at all levels.
Dr Hakeem Belo-Osagie, the Chairman, Metis Capital Partners in his opening presentation, said there is need to look into how the government economy is being
run as a whole and what the money is spent on.
He said ensure those contesting for 2023 elections have interest in our economy. Health is a priority and it should be health and health.
Public healthcare is crucial, sanitation is crucial as good sanitation goes far in health.
During panel discussion on the Economy of Health, Dr Olumide Okunola, Senior Health Specialist, Health Population and Nutrition, World Bank, said without public health financing, achieving UHC would be difficult.
He explained that for livelihood to improve, the economy must get better as faster growth is needed to create greater opportunities.
He said if you can reduce petroleum subsidy, you can finance health, education, among others.
Okunola expressed concern on how local government spending would be accounted for, now that they have autonomy, saying will
local councils spend on health? How do you ensure more than 95 million Nigerians are able to survive?, he asked.
He, therefore, said there is need to establish strong foundation for a diversified economy and investing in physical, financial, digital and innovation infrastructure.
There is need to build solid framework and enhance capacities to strengthen security and ensure good governance and enabling a vibrant, educated and healthy populace.
Prominence should be accorded to human capital development especially health, education and social protection in resource allocation.
Another panelist, Prof. Obinna Onwujekwe, Lancet Nigeria Commissioner, said public health is known for at least two decades that good health can be achieved at low cost if the right policies are
in place.
We know this from comparative studies of countries at the same level of economic development that revealed striking differences in health outcomes.
According to the studies, factors that contribute to good health at low cost include a commitment to equity, effective governance systems, and context-specific programmes that address the wider social and environmental determinants of health.
An ability to innovate is also important. Above all, government needs to be committed.
Another panelist, Dr Onoriode Ezire, Senior Health Specialist, World Bank, who noted that Nigerias health sector is still largely underfunded, said investment in health is
directly related to the growth of the economy.
Ezire said the indexes are still poor, adding that productivity of the country is a function of the state and status of the health of the people in the country.
According to him, investment in health contributes to achieving other developmental goals like reduction in equity and promoting shared prosperity.
Government at all levels must prioritise health as lessons from COVID-19 are still fresh in our minds. Government may use a mix of method to prioritise health funding.
Civil society and health promoters have a role to play. Advocate as may be necessary, provide the relevant evidences and data, improve the quality and timeliness of our data, Onoriode advised.(NANFeatures)
Source: NAN News