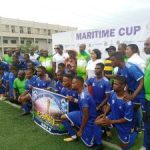 By Chiazo Ogbolu
Dr Bolaji Akinola, convener, Ships and Ports Maritime Football Cup Competition, on Tuesday, said that the competition was aimed at fostering health living and promote recreation in the industry.
Akinola said this at the 2022 Ships and Ports Maritime Football Cup Competition in Lagos.
According to Akinola, the competition which is the 12th edition is one of the two sporting event in the maritime industry; Ships and Ports Maritime Football cup competition and the Ships and Ports Table Tennis competition.
This competition is about bringing together everybody in the maritime industry, government agencies, maritime practitioners in a social setting that is different from seminars and conferences that they are used to.
Apart from bringing the industry together, this encourages recreation and of course, we know the importance of sports and exercise in healthy living. This is what the tournament is all about, he said.
He noted that due to COVID-19, the competition did not hold in 2020 and 2021.
Dr Vicky Haastrup, Chairman, Seaport Terminal Operators Association of Nigeria (STOAN), noted that the competition was good for industry operators mental health.
Haastrup congratulated Ships and Ports for keeping the competition alive, despite the challenging time, particularly COVID-19.
This is really important for our mental health, it instill unity within the sector; we are a family, everyone in the shipping sector, so it is really so great for all of us to participate.
Like the previous competition, this is going to be a huge success. The winner will carry the cup and its ENL that will carry the cup because I know my boys are up to the task.
This is good for the industry and this championship has come to stay. I say a big thank you to Akinola and I wish everyone best of luck, he said.
Also, Mrs Margaret Orakwusi, Chief Executive Officer, Morbod Fisheries Ltd., said the large turn-out showed that they were there to promote friendship.
This is a competition, so there will be losers and winners. However, you are all winners because you will make new friends and this is what Akinola is doing in the industry. Good luck and may the best team win, she said.
Mr Ahmad Umar, General Manager, Nigerian Ports Authority (NPA), wished the players the best and hoped that there would be no casualties.
It gladdens my heart to see young men filed out today. We appreciate Akinola, the organiser of this event for doing it every single year.
I wish everyone good luck, but there is no work without hard work, as you people must have prepared yourselves very well for this competition. You should know that the NPA is going home with this cup, he said.
Umar urged the young men to understand that this was exactly what they should be doing, engaging themselves in sports as it is good.
The highlight of the event witnessed the opening match between ENL Consortium and Higher Pacific International (HPI).
At the end of the opening match, ENL Consortium won by four goals to one from HPI.
The News Agency of Nigeria(NAN) reports that the Maritime Cup Football Competition was created by Ships and Ports in 2009.
It is to encourage recreation and camaraderie among employees of government agencies, private sector operators, and regulators in the maritime industry.
The competition officiated by approved FIFA-badge referees, has eight teams battle for honours and they are: Nigerian Ports Authority (NPA), Nigeria Customs Service, ENL Consortium, Josepdam Port Services and the Nigerian Navy.
The other teams are the National Association of Government Approved Freight Forwarders (NAGAFF), HPI Nigeria and Dynesty Ocean Shipping. (NAN)(www.nannews.ng)
===========
Edited by Olawunmi Ashafa
Source: NAN News