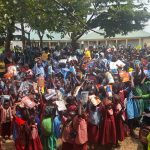 Jessica Dogo
An NGO, The Ray of Hope Empowerment Foundation, has empowered pupils of LEA Nursery and Primary School, Kado-Kuchi, in the Federal Capital Territory (FCT) with learning materials.
The NGO, carried out the exercise at the 7th edition of its Adopt A Child And Educate, empowerment programme for schools in communities across the country, on Wednesday.
It provided the 393 pupils in the school with materials like exercise books, uniforms, sandals bags, pencil and biros, among other items.
The National Coordinator, of the foundation, Christybelle Sylva-John, said that the gesture was aimed tlat improving the education of the disadvantaged children in various communities across Nigeria.
Sylva-John said that the gesture would also build their self-esteem aand improve their academic performances.
Our goal is to improve the educational growth of the disadvantaged children in various communities across Nigeria by providing the necessary tools needed for their academic pursuit.
Our vision is to see that no child in Nigeria resumes school without the necessary school supplies needed to help him or her succeed.
To make sure that no child drops out of school due to lack of school fees, she said.
According to her, every child deserves to be educated, saying, education is the first early investment for every childs development.
She said that for nations to develop, their govermemts needed to prioritise budgetary allocations to educational infrastructure.
Sylva-John said that the gesture had been replicated in Benue, Enugu, Niger, Kaduna, Katsina and Imo states, as well as the FCT.
The coordinator urged the Federal Government to do more educationally, and increase the budgettary allocation to schools in the country.
Together, we can make a difference in the lives of the less privileged children in our society by empowering them to get quality education.
Since the launch of this programme in 2015, with the support of individuals, organisations and corporate bodies, we have visited several schools in the country and still counting.
The school is dilapidated. It is in need of toilets, chairs, teachers, more classrooms and the existing ones need to be renovated, she said.
The Headmistress of the School, Mrs Arhanmhunde Edith, said that the gesture has put smiles on the faces pf both the pupils and teachers.
She called on the Kado-Kuchi community to give its support by taking care of the facilities.
The rain spoilt our school. The government can help us renovate the school because most of the buildings are dilapidated.
We always welcome any organisation that is ready to come up with gestures like this. Our doors are always open for such, Edith said.
Isaac Isola, a pupil of the school, thanked the foundation for sharing the learning materials. (NAN)(www.nannews.ng)
Edited by Kadiri Abdulrahman/Bashir Rabe Mani
Source: NAN News