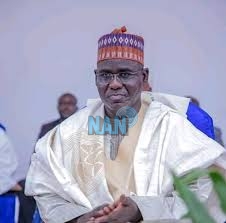 By Sumaila Ogbaje
Former Chief of Army Staff retired Lt.-Gen. Tukur Buratai, has congratulated Nigerians on the election of Sen. Bola Tinubu as the President-elect, saying his victory was a clear reflection of the will of the people.
Buratai, who is the immediate past Nigerian Ambassador to Benin Republic and a Chieftain of the All Progressives Congress (APC), made the call in a statement on Monday in Abuja.
He also called on Nigerians to vote all APC candidates in the March 18 Governorship and House of Assembly Elections across the country.
Buratai commended the Independent National Electoral Commission (INEC) under the leadership of Prof. Mahmood Yakubu for presiding over an election in a country with the largest democracy in the African continent.
According to him, it is a job well planned and professionally executed.
He stated that the vote of all Nigerians had the power to make a difference and consolidate on the wise choice made during the presidential election.
At this juncture, I say with all sense of responsibility that our collective future is assured under the renewed hope vision and mission of Asiwaju Bola Tinubu.
I believe the President-elect is a man of capacity, empathy, vision, and all that it takes to lead Nigeria to the promised land.
Therefore, I encourage all Nigerians to vote for the APC in the forthcoming governorship elections at the states levels so that the APC can have a majority at all levels.
Do not be part of the minority opposition as we already have the APC at the Centre.
Continuity has been achieved at the Federal level with the emergence of Asiwaju Bola Ahmed Tinubu as the President-Elect from the APC.
Therefore, for effective policy implementation, progress security and development of our country, also vote APC at the states levels. Nigeria shall be great by the Grace of God, he said. (NAN) ()
========
Edited by Sadiya Hamza
Source: NAN News