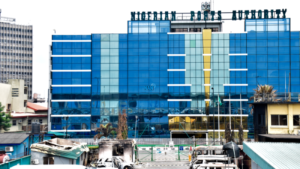 Nigerian Ports Authority (NPA) headquarters
By Chiazo Ogbolu
The Nigerian Ports Authority (NPA) has commended the Maritime Workers Union of Nigeria (MWUN) for support in ensuring salaries of NPA members of staff were increased.
The Managing Director, NPA, Mr Mohammed Bello-Koko in a statement in Lagos on Tuesday, noted that the salary of workers had been stagnated since 2008.
Bello-Koko stated this when he received a letter referenced MWUN/MD/NPA/RFC/23, dated March 6, signed by the Secretary General MWUN, Comrade Adewale Adeyanju, expressing appreciation to management of the authority for the increment in the salary of its members.
The NPA boss said that breaking the jinx of salary stagnation suffered over a decade by the authoritys employees was made possible by the support of the MWUN.
He noted that the authority remained appreciative of the support by the union.
This critical support from MWUN has buoyed us to intensify our relentless drive toward continuous improvement in the welfare of our esteemed workers in ways not limited to monthly salary alone.
We are further delighted by the fact that our own Adeyanju is now the Deputy President of the NLC.
This gives us the necessary solidarity and backing to push for more benefits for our highly valued human resources, he said.
It would be recalled that the NPA managing director had in November 2022, been accompanied by Adeyanju to pay an advocacy visit to the headquarters of the Nigerian Labour Congress (NLC) to solicit the unions solidarity toward increase in NPA workers salaries. (NAN)(www.nannews.ng)
============
Edited by Chioma Ugboma
Source: NAN News