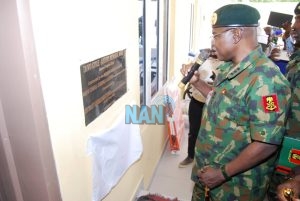 Chief of Army Staff, Lt.-Gen. Faruk Yahaya, inaugurating the newly-constructed 60-bed ward at Kishi General Hospital in Oyo State on Tuesday (14/3/24)
By Sumaila Ogbaje
The Chief of Army Staff (COAS), Lt.-Gen. Faruk Yahaya, on Tuesday, inaugurated an ultra modern 60-bed ward at the General Hospital, Kishi in Oyo State.
The Director, Army Public Relations, Brig.-Gen. Onyema Nwachukwu, in a statement on Tuesday, said the project was part of armys civil-military cooperation projects.
Nwachukwu said the health facility which was constructed and fully equipped by the army, contains female, male and children wards, labour room, consulting rooms, nurses station as well as a reception.
Speaking at the inauguration, the COAS described the project as one of his special Intervention Civil-Military Cooperation projects aimed at winning the hearts and minds of Nigerians by complementing existing infrastructure.
Yahaya said the Nigerian army owned it a duty to partner Nigerians at ensuring that the nation was safe and secure, adding that the army belongs to Nigerians.
He thanked President Mohammadu Buhari for his unflinching support for the armed forces and reaffirmed the loyalty of the officers and soldiers to the constitution.
Gov. Sheyi Makinde of Oyo State, who was represented by Mr Lateef Adediran, extolled the Nigerian army for being instrumental to national unity and global peace through its internal security operations and contributions of troops to Peace Support missions.
Makinde expressed appreciation to the Nigerian army on behalf of the state government and people of the state for choosing Kishi for the execution of the laudable project.
The facilitator of the project, Maj.-Gen. Kunle Adesope, Chief of Defence Accounts and Budgets and an indigene of Kishi, said the choice of the project was premised on needs assessment and consultation with community leaders.
Adesope thanked the COAS for approving and sponsoring the project, adding that it will positively impact on the health of the people. (NAN) ()
Edited by Abdulfatai Beki/Vincent Obi
Source: NAN News