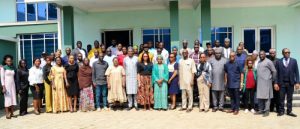 Paricipants in the pre-validation workshop for the draft National Cash and Voucher Assistance Policy in Keffi, Nasarawa State
By Jacinta Nwachukwu
The Ministry of Humanitarian Affairs, Disaster Management and Social Development (FMHADMSD) and partners have underscored the need for the review of the National Cash and Voucher Assistance Policy (NCVAP) to aid efficiency.
In her presentation at the ongoing two days pre-validation workshop for the draft National Cash and Voucher Assistance Policy in Keffi, Nasarawa State, Mrs Olamide Dauda, a Consultant said the aim of the initiative was to improve the operational environment for CVA.
According to Dauda, the initiative will promote an inclusive approach and address the operational bottlenecks, help to lay the foundations for financial inclusion, and support increased access to social protection as feasible and appropriate.
Transportation of cash in insecure areas has the risk to increase potential attacks.
The use of cash transfers is broadly accepted and recognized as the most efficient and effective way of responding to humanitarian crisis.
In context where cash transfers are not feasible, vouchers are seen as acceptable alternative, she said.
Dauda said that the use of cash transfers gives recipients choice, dignity, and control to prioritize and fit the assistance to their specific needs.
It enables them to address their individual needs based on their own preferences and decisions, she added.
On her part, the Minister, FMHADMSD, Hajia Sadiya Umar-Farouq said the policy was expected to complement the Humanitarian Response Plan.
Represented by Dr Abubakar Suleiman, Deputy Director, Disaster Management, Umar-Farouq said that the policy would provide clarity on the use of CVA to meet needs among the poor and vulnerable.
It will also improve the operational environment for CVA uptake by overcoming bureaucratic bottlenecks.
The policy is also expected to support commitments, already enshrined in other national policies i.e. the recently approved National IDP policy, facilitate financial inclusion and access to social protection among target groups, she said.
Similarly, Mr Trond Jensen, Head of Office, United Nations Office for the Coordination of Humanitarian Affairs said that the policy would help to strengthen cash programming and coordination for the ultimate benefit of the affected people.
Represented by Ms Uche Njoku of the office, Jensen said that CVA programming has been on a steady rise between 2017 and 2023 in Nigeria.
The News Agency of Nigeria (NAN) reports that Cash and voucher policy allowed for purchase/redemption using vendors within the beneficiary communities. (NAN)(www.nannews.ng)
==========
Edited by Razak Owolabi
Source: NAN News