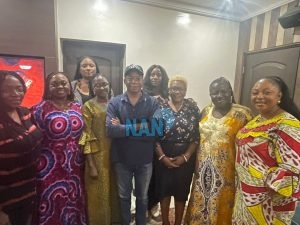 Members of the Alia Alliance Women Wing in Abuja
By Bridget Ikyado
The Women Wing of the Alia Alliance, World Wide, a foremost support group for the Benue Governor-elect, Rev. Fr Hyacinth Alia, has drummed support for partnership for sustainable development of the state.
The group, led by Grace Iorlaha, made the decision at a meeting of the group in Abuja.
They promised to support the incoming APC administration in Benue, to boost the growth and development of the state.
The leader said the group intended to partner with the state government in creating, executing and promoting government plans and projects via the media.
It will also support programmes, especially those focused on women, youth empowerment, health and gender as well as suggest ways to curb maternal mortality .
Iorlaha said those were very critical projects that would enhance the development as a state and the nation at large.
We are setting a target specifically for ourselves, because women constitute a larger number of the society and contribute a whole lot to the society.
As far as we are concerned, whatever we can do to promote the women, children and youth in the society would have a positive effect to the society and state at large.
Empowering the youth will help curb juvenile delinquency and other ills in the society, just as insecurity will be minimised.
These will give us quick wins. Thats our goal and vision. Thats what we set out to achieve and we know we can do it together, she said.
The women, however, appealed to the incoming administration to consider a handful of women for appointments, especially from the group as they were capable and willing to work and bring the desired change and development the state needed.
The group felicitated with the governor-elect for appointing two women from the group, Bridget Ikyado (Venue Committee) and Susan Abu (Refreshment, Feeding, Protocol Committee) as members of the Sub Committees of the Governor-elects inauguration ceremony.
In a welcome Remark, the Alia Alliance Secretary General, Mr. Kelvin Dzeremo, thanked the leader for convening the meeting.
He commended all those present and urged everyone to keep the Alia Alliances guiding principle of all for one and one for all in mind.
He appealed for robust support from the women which would further enhance the states development.
He encouraged the women to sustain the impressive show he witnessed, even as he promised that great things awaited them as they tried to take Benue to greater heights.
Various contributions for the states development were made by the women who were present at the meeting.(NAN)(www.nannews.ng)
Edited by Idris Abdulrahman
Source: NAN News