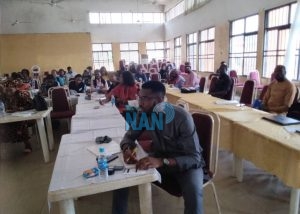 By Gami Tadanyigbe
Secure-D-Future International Initiative (SDF), an NGO, has advised Nigerians to embrace periodic mental health check-ups to help tackle the increasing suicide and depression rate in the country.
Mrs Saadatu Adamu, the Founder of the organisation, gave the advice during the second Abuja Counsellors Summit and Expo in Abuja, titled Assessment, Method and Application of Counselling.
Adamu said counselling was very important as it tends to focused on helping deviants in the society and tackles the increasing suicide and depression rate in the country.
According to her, mental health comes in any form and leads to depression, suicide and self-harm.
It is important for Nigerians to embrace mental check-up and engage in therapy.
Counselling is very important because counsellors work in rehabilitation centres, welfare offices, schools and hospitals in our communities.
If you hear the stories we get regularly from schools, you will know that there is a need to really have these professionals around us.
We hear stories of dysfunctional families, where children pick little things they see from other children and begin to act on them.
I believe that counselling is very important in every aspect of our life; parents and children needs counselling and we need to shun stigmatising mental health patients, she said.
However, she called on parents to develop a good channel of communication and relationships with their children to enable them know their mental health status for a better future.
The founder also said there were lots of mental health issues in the society, hence the need for government to come up with policies that could address same in the country.
The Chairperson, Summit Committee, Mrs Hasiya Adamu-Biu, said there was a need for every Nigerian to always consult a counsellor whenever they are faced with challenges.
Adamu-Biu maintained that there are issues in Nigeria that affect our mental state, that are temporary which could be addressed by visiting a mental health counsellor within us.
According to her, there is a new mental health and counsellors Act aimed at teaching the counsellors how to use their profession to help address mental health challenges in the country.
The Head of Department, Guidance and Counselling, FCT Education Research Centre (ERC) Laison Officer, Mr Yahaya Abdulawahab, said the summit was aimed at training counsellors to meet world best practices in the profession.
Abdulawahab said the government has developed an Occupational Interest Inventory in FCT schools, where counsellors use to admit and place students to their appropriate subjects. (NAN) (www.nannews.ng)
Edited by Dorcas Jonah/Muhammad Suleiman Tola
Source: NAN News