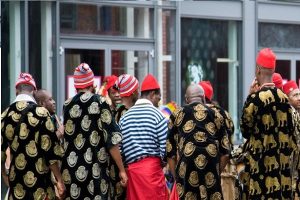 Igbo group displaying their culture
By Emmanuel Afonne
A pan-Igbo cultural organisation, Ekwe Igbo International, has launched a campaign for the promotion of Igbo language in private and public schools in the country, especially in the south-east.
President-General of the organisation, Chief Chinedu Onwudinjo, said this in Abuja on Sunday at an event to mark the groups 14th anniversary.
Onwudinjo said the organisation decided to embark on the campaign in schools as most parents no longer speak or teach their children Igbo language at home.
We are also calling for the sustainability of Igbo language in schools curriculum to encourage younger ones to speak it and to avoid it going into extinction, Onwudinjo said.
According to him, the group will be touring the five south-east states to engage with school authorities on how best to promote Igbo language amongst pupils and students in the zone.
With our effort, there will be change.
We were in Anambra two months ago and we met with the governor and we told him our mission which is the promotion of Igbo language in schools.
He assured us that learning the language will be a must in schools in the state, he said.
Onwudinjo, who blamed most parents for the gradual extinction of Igbo language, noted that the language was compulsory during their school days but wondered what had gone wrong in recent times.
It is unfortunate that most of our kids dont speak Igbo language, it is a shame for the parents.
We plead with parents to speak Igbo language to their kids the same way they speak English to them, whether in London or America.
It is a known fact that without speaking Igbo language, he or she cannot compete favourably with others in the south-east in different fields of endeavour, Onwudinjo added.
He used the opportunity to congratulate Chief Emmanuel Iwuanyanwu, the newly-appointed President-General of Ohanaeze Ndigbo, and urged him to ensure that the rights of Igbo people were not trampled upon.
He also urged him to always stand on the truth and the unity of the country.
We urged him to hit the ground running immediately because there are plenty of works to do which were left undone before the demise of the late President-General, George Obiozor.
Also speaking, the Publicity Secretary of the group, Chief Ekenechukwu Aloefuna, said Ekwe Igbo International has members and branches worldwide but wanted to make an impact at home first before highlighting our achievements abroad.
Aloefuna said the group had been preaching oneness and peace just to help unite Nigerians after the 2023 general election that almost divided Nigerians among tribal and religious lines.
He also urged the youths to shun the attitude of getting rich quick through dubious ways and other social vices as the group would not hesitate to expose such people to law enforcement agents. (NAN) (www.nannews.ng)
=========
Edited by Vincent Obi
Source: NAN News