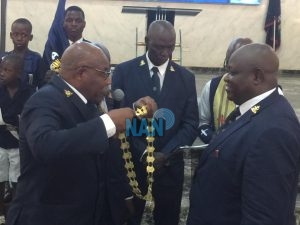 By Bridget Ikyado
The newly elected National President of Boys Brigade Nigeria, Prof. Samson Duna, has called for partnership to train the boy-child for future leadership responsibilities.
Duna who made the call at his investiture on sunday in Abuja, said that the brigade was designed to discipline the boy-child and train him in the fear of God.
He said that the brigade had existed in Nigeria for 120 years and all its efforts were geared towards installing in the boy-child, responsible leadership and fatherly skills.
As an organisation, we have a lot of challenges, we need to have basic facilities needed in training, we do not have a standard headquarters.
We are constructing nine two-bedroom residential flats and we want all well meaning Nigerians to partner with us, join hands with us to complete the project.
We intend to rent each of them at N800,000 for a year and use the funds generated to address the needs of boys in the country, he said.
The Minister of Science and Technology, Sen. Adeleke Mamora, expresses worry at the rate of moral decadence among young people especially the LGBT community.
According to him, medically when a baby is born, the gender is determined but there is a movement that wants the child to become of age and to decide to be a male or female.
Making reference to the Bible, the minister said that we are the salt of the earth and the metaphor of salt is significant as it is the greatest preservative.
As Christians we are called to protect societal values and we must protect it; the force of morality is greater than the force of law as demonstrated in the story of the Good Samaritan.
That is what we are called upon to do, he said, he said.
Mamora prayed God to grant strength to Duna to manage the Herculean tasks and urged the boys bridgade not to rest or their oars.
In a sermon, the Senior Pastor of Evagenliical Church Winning All (ECWA) Rev. Ogidi Dickson, called on faithful to be ministry minded in all the days of their lives in their dealing with one another.
Dickson explained that being ministry minded was to make life better for other persons, irrespective of title, tribe or race.
He said that whatever privilege God gave, it should be used to benefit people in the community, especially the poor and the weak.
The cleric said that God-given privileges did not last forever, charging Christians to make maximum use of it while available.
He called on public officials to be mindful of their roles and play them in accordance with the rules and regulations and not for personal interest.
The Executive Secretary of Boys Brigade Ghana, Rev David Aglo, said that the Ghanaian delegation had come to show solidarity.
According to him, the visit is to strengthen the relationship between Nigeria and Ghana because there has been a long relationship and should be strengthened.
He presented gift items, including symbol of authority and friendship to the newly elected national president. (NAN)(www.nannews.ng)
Edited by Idris Abdulrahman
Source: NAN News