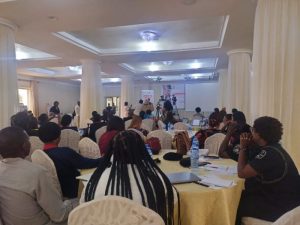 Post-elections conference in Abuja on Electoral Gender-Based Violence
By Taiye Agbaje
The United Nations and the European Union (EU) on Monday condemned gender-based violence against women during elections.
Ms Beatrice Eyong, the UN Women Country Representative to Nigeria and ECOWAS, said violence against women in elections had been recognised as one of the key obstacles to advancing womens participation in public life.
Violent acts committed towards women are gender-based and they tend to discourage women from being politically active.
It is often used to intimidate women from practising their political rights in the first place, she said.
Eyong spoke during a post-elections conference in Abuja that was titled: Where Do We Stand Regarding Electoral Gender-Based Violence?
The News Agency of Nigeria (NAN) reports that the event was organised by the Spotlight Initiative, UN Women and EU in partnership with Canadian government.
According to Eyong, some women have had to quit their positions after receiving death threats.
Some women have also often withdrawn from public life citing abuse including online abuse and cyberbullying.
Women candidates have faced various forms of targeted, gender-based violence, she said.
Eyong said lack of data on violence against women in politics (VAWP) had negatively affected evidence-based advocacy for influencing changes in laws and policies and for establishing comprehensive protection systems for women in politics.
Mrs Samuela Isopi, the Head of the EU Delegation to Nigeria and ECOWAS, said it was a well-known fact that women are underrepresented in Nigerias political environment.
Unfortunately, the 2023 elections show a trend in the wrong direction, she said.
Isopi, represented by Esme Stuart, Project Manager, Human Rights and Gender Section, said concerted efforts must be made to break the barriers to meaningful participation of women in leadership positions.
According to her, the full and equitable participation of women in public life is essential to building and sustaining strong, vibrant democracies.
Mrs Djifa Ahado, Head of Cooperation, Government of Canada, corroborated that the 2023 elections saw another decrease in the overall number of women candidates, while the overall number of women elected to office at the national and state levels remained relatively unchanged.
Ahado, who said that the country now ranks as one of the lowest in womens representation in African Parliaments, said: Together, we need to sustain the efforts and the advocacy to see a real change happening.
Ms Aishatu Abubakar, who is the AIG, Gender Advisor, Police Force Headquarters, Abuja, said during the 2023 general elections, the Nigerian police ensured that the vulnerable groups like the pregnant women, nursing mothers, people living with disabilities, the ageing population, were given priority to cast their votes.
We are gender sensitive and gender responsive. The Nigerian police is mindful of issues of gender-based violence in Nigeria, she said.
Also speaking, the National Chairman of Inter-Party Advisory Council (IPAC), Yabagi Sani admitted that violence and stigmatisation contributed to low women participation in politics.
He said women are the biggest player in the art of growing a stable society, hence, the need to encourage them.
A university professor, Mrs Joy Ezeilo, hinted that out of about 1, 533 women candidates in the 2023 general elections across the country, only 72 candidates won their elections.
She said in the Senate, three women won the seats as against eight women currently in the upper house while 14 women were elected in the House of Representatives.
She described the trend as disturbing. (NAN)(www.nannews.ng)
==========
Edited by Sadiya Hamza
Source: NAN News