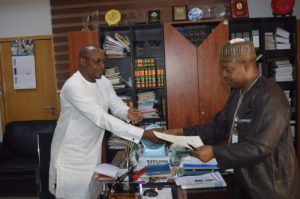 Jos PPP Agency boss, Rwang-Dung receiving appointment letter from DG ICRC and Co president of AP3N, Michael Ohiani - Rwang-Dung is appointed as Chairman of the Partnership and Resource Mobilisation Committee of the Africa Public Private Partnership Network (AP3N)
By Okeoghene Akubuike
The Plateau State Infrastructure Promotion and Regulatory Agency has called for upgrading of the Yakubu Gowon Airport, Jos, to an International Cargo and Agro-allied Airport.
The Director-General of the agency, Felix Rwang-Dung, made the call when he visited the Director-General, Infrastructure Concession Regulatory Commission (ICRC), Michael Ohiani in Abuja on Monday.
Rwang -Dung said the purpose of the visit was to intimate Ohiani of the progress recorded so far in the Plateau State Public Private Partnership (PPP) Agency.
He said the visit was an opportunity to work with the ICRC and take advantage of resources that could be provided to establish an effective PPP agency covering various sectors.
The support of the ICRC will be required to advance the upgrade of Jos airport so that it can become attractive for private investment participation.
We are confident that with your distinguished leadership and the ICRC teams guidance and support, we can establish a model sub-National PPP agency.
This will attract private sector investments for developmental growth in Plateau.
We believe that the following areas of support from the ICRC will be vital for ensuring that we get the optimum results for the state PPP project, he said.
Rwang-Dung listed areas of support to include technical assistance, capacity building, stakeholders mapping and introduction to investment communities.
On technical assistance, Rwang-Dung said the ICRC could help the agency to establish and develop its regulatory policy, contract and risk templates, and frameworks.
He appealed to the commission to sponsor capacity building programmes for members of the team and key civil servants on site.
These programmes will help enhance the knowledge and skills of our staff members and key government Ministries, Departments and Agencies, he said.
Rwang-Dung solicited the guidance of ICRC to provide support on stakeholder engagement strategies, which he said was a critical element towards ensuring the success of any future PPP projects.
He said it was optimistic that the ICRC would accede to its requests.
The News Agency of Nigeria(NAN) reports that Rwang-Dung was officially presented with his letter of appointment as the Chairman of the Partnership and Resource Mobilisation Committee of Africa Public Private Partnership Network (AP3N) by Ohiani.
NAN also reports that Ohiani was the Co-President of the AP3N.
Ohiani, while presenting the letter, assured Rwang -Dung of the support of the ICRC.
Present at the event included AP3N Regional Coordinator for Central Africa, Femi Pat-Natson, and Regional Coordinator for West Africa, Mrs Ijeoma Ogoke. (NAN)(www.nannews.ng)
===============
Edited by Dorcas Jonah/Vivian Ihechu
Source: NAN News