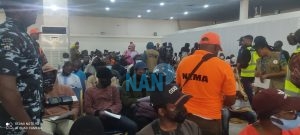 Some of the returnees at the Nnamdi Azikiwe International Airport, on Saturday in Abuja
By Ahmed Ubandoma
The Federal Government has announced the closure of its situation room on the evacuation of stranded Nigerian students in the war-torned Sudan.
It, however, said that attention would now shift to repatrating other Nigerians resident in Sudan.
Dr Nasir Sani-Gwarzo, the Permanent Secretary, Ministry of Humanitarian Affairs and Chairman of the Situation Room, disclosed this on Monday while briefing newsmen in Abuja.
Gwarzo said that government has set up committee for a rescue operations to assist in repatriating other Nigerians residence in Sudan that wish to return home.
We recognise the presence of other Nigerians in Sudan, such as recent travellers and long-established families who desire to return home.
The ministry has established a dedicated committee to facilitate their repatriation, replicating the successful efforts made for the students.
As the evacuation operation concludes, the Situation Room responsible for its oversight is officially close today.
Although a standby team will remain prepared for any future emergencies, he said.
The Permanent Secretary encouraged students to report any of their colleagues who may have been missed during the evacuation.
An inspiring example of the operations effectiveness lies in the story of a young girl with chronic asthma, unintentionally left behind due to hospitalisation.
Through diligent efforts, she was located and successfully brought back to Nigeria in one of the final evacuation flights, underscoring the operations efficacy.
Majority of Nigerians in Jeddah, Saudi Arabia have already been repatriated from Sudan with only 13 individuals remaining, and prompt efforts are underway to bring them home.
In Ndjamena, Chad and Addis Ababa, Ethiopia, all Nigerians have returned, except for Nine and seven individuals respectively, who will soon reunite with their families.
Notably, all 800 travelers who transited through Egypt have successfully returned home, he said.
Gwarzo said that the Nigerian Embassy in Sudan has actively profiled these individuals and has established a committee dedicated to facilitating their safe passage to Nigeria.
While the exact number of those awaiting repatriation remains undisclosed, the committee has already begun assessing logistics and examining necessary paperwork.
To streamline the process, Port Sudan has been designated as the official collection center, and we advise all evacuees to relocate there, he said.
He said that the successful evacuation exercise of 2,518 stranded Nigerians from Sudan was a testament to the governments commitment to the welfare and well-being of Nigerian citizens abroad.(NAN)(www.nannews.ng)
Edited by Ismail AbdulAziz
Source: NAN News