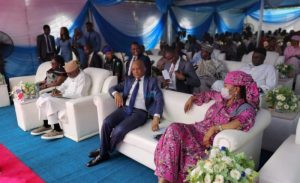 Stakeholders during the inauguration of the NIMASA Abuja Zonal Office on Tuesday
By Lucy Ogalue
Minister of Transportation, Alhaji Muazu Sambo, has urged members of staff of the Nigerian Maritime Administration and Safety Agency (NIMASA) to double their efforts to ensure improved service delivery and economic development.
Sambo gave the advice while inaugurating the new NIMASA Abuja Liaison office on Tuesday.
He said that establishing a permanent Zonal office for the agency was imperative because of its strategic role in the sector.
Apart from the reduction of cost of governance, the New Abuja Zonal Office will serve as the centre piece of government relations on matters with bilateral and multilateral implications on international trade and cooperation.
It will enable the agency to host foreign diplomats and other key maritime stakeholders in the Federal Capital Territory, thereby helping the agency to speedily achieve its mandate.
All these led to the acquisition of the office and served as further proof of the growth in capacity of NIMASA due to its deepened role in Nigerias economic development, the minister said.
While expressing the ministrys commitment to NIMASA and all other departments under it, Sambo said this project was a pointer to its determination in that regard.
He commended President Muhammadu Buhari-led administration for approving the procurement of the office, the NIMASA Chief executive and all who made the project a reality.
Sambo thanked everyone who contributed to the realisation of the project, saying more of such projects would subsequently be inaugurated in the country
Earlier, the Director-General of NIMASA, Dr Bashir Jamoh, thanked the transportation minister and the Federal Government for ensuring the acquisition of the state-of-the-art edifice.
Jamoh said the project signaled the agencys commitment to providing conducive, favourable and supportive working conditions to boost staff productivity.
The director-general said todays ceremony is just one more step in living up to what the world has come to expect from us.
If we train our staff internationally, we must provide them with a working environment that matches with those international standards.
This edifice reflects managements commitment to providing a world-class working environment in addition to the recently reviewed and improved conditions of service for all employees.
With this investment, we have taken things up. Top- notch by providing support, infrastructure environment, regarding safety and security.
He, however, pledged NlMASAs commitment to ensure a culture of maintenance to extend the lifespan of the building. (NAN)(www.nannews.ng)
===============
Edited by Modupe Adeloye/Adeleye Ajayi
Source: NAN News